The Top 10 YouTube Channels for Writers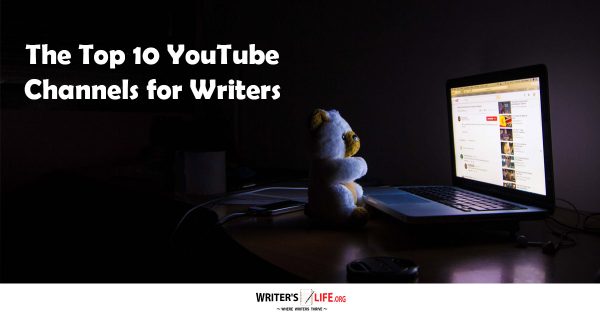 If you are looking for funny, informative, entertaining videos on how to improve your writing, check out these great channels.
If you are looking for information on how to write, and how to get published, as well as loads of tips, motivational videos, and advice from writer's who have been in the game for many years, then check out the Writer's Life YouTube channel, bringing you fresh new videos each week!
Jenna Moreci's is a sci-fi writer who creates hugely funny videos that are great if you are looking for information from a seasoned author presented in an entertaining and upbeat way. She covers loads of relevant topics such as handling self-doubt and rejection as well as more practical advice. Not suitable for those with sensitive ears though as she doesn't hold back!
3. The Creative Writing Lecture Series by Brandon Sanderson
Sanderson's lectures are a brilliant way for writers who want to feel as though they are in a classroom and being taught directly by the man himself. It's a very cool lecture series that covers topics such as creating impactful dialogue and crafting the perfect plot. Particularly useful for fantasy/ sci-fi writers.
Another sci-fi writer, Vivien Reis, produces relaxed, informative, entertaining videos, mostly aimed at those just starting in the writing game, helping them to avoid common mistakes and encouraging them to stick at it.
Bookishpixie is presented by Ava Jae who describes herself as a "nerdy, awkward, book-loving writer."
If you are looking for easy to understand advice on a variety of subjects from sending out queries to how to edit your work this is a great channel to watch.
Stephen's videos are slightly offbeat, usually amusing and very down to earth. Her How to Build a Story series really breaks down the writing process into manageable, bite-size pieces, making it (almost) seem easy!
Chris Fox is the brains behind hugely successful books such as 5,000 Words Per Hour and Write to Market: Deliver a Book That Sells. In short, his advice is well worth listening to.
His videos focus on how writers can become more businesslike in their approach and how to get work seen by those that matter most.
The New York Times bestselling YA author gives visitors to her channel a unique insight into what it's like to write a successful book. She's funny, confident and has excellent information on topics such as how royalties are paid, your rights as an author and how to write a sequel.
Chance is a high school teacher turned successful author who wrote the very popular novel, Keeper. She is great if you need to be reminded about the basics of grammar as well as giving some useful insights into the publishing and marketing processes.
With over 1500 videos to chose from WordNerds is a fantastic source of information for writers at any level. From finding your inspiration to getting some fantastic book recommendations this channel has a little bit of everything.
These 10 YouTube channels are ideal for writers if you are looking for useful information, entertaining advice and a friendly face - so check them out!