How To Make Your Blog More Popular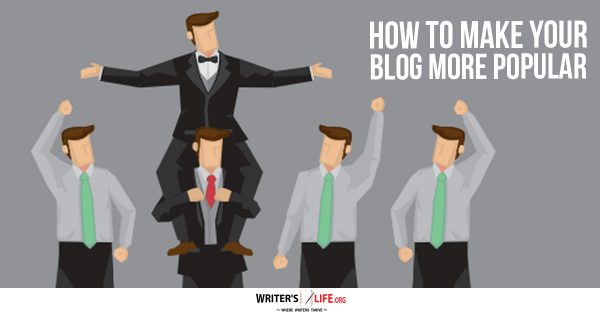 We've all been told that starting an author blog can be very beneficial to us writers. They can help us reach a wider audience, gain more of a following, and, hopefully,  sell more books.
However, creating an author blog is naturally going to take up some of your precious writing hours, and without knowing what works in a blog and what doesn't, you will run into the exact same problems as you have with getting people to buy your book or notice your writing in the first place! This means the whole thing could very quickly start to feel like a massive waste of time.
But just like bestselling novels, there are certain rules when it comes to blog writing, and if you follow them, you are more likely to attract readers and make a name for yourself.
So just what are the magic ingredients that make some blogs more popular? Let's take a look.
Teach people
A good blog will have value. If it's just your random musings or incoherent ramblings or is just stuff full of self-promotion you are going to lose readers interest very quickly. Make sure your blogs have lessons, however subtle and are of interest and use to your readers.
Entertain people
You don't have to be a stand-up comedian to write an excellent blog, but having a lighthearted tone and writing in an entertaining and engaging way will make your blogs easy to read. Remember most people read blogs as entertainment so if yours is too serious, impersonal or factual it will turn your readers cold.
Inspire people
Lots of popular blogs are aspirational and motivate people. Take great cooking or fashion blogs for example - people see pictures of great food or clothes and want to make that recipe or own those clothes themselves. Inspiring people and leaving them feeling pumped and ready to try something new is an excellent reason for them to keep coming back for more.
Support and confide in people
A good blog will be personal and will talk about experiences that readers can share in, delight in and makes them think 'hey this person understands me.' Make your blog the kind that welcomes people and draws them in, and you'll see your readership rise.
Good blogs also have a great theme - both regarding how they look visually and a consistent theme that holds them together.  make sure you break up text with pictures that look great and will gain attention. Popular blogs are also regularly updated with fresh posts, have a warm and welcoming tone, and the blogger responds to comments and suggestions from readers and fans too.
So when you next write an author blog, make sure that you are using the above as a guide, and you are more likely to attract more readers, and slowly but surely make your bog a success.