5 In-Demand Ways to Make Money As A Writer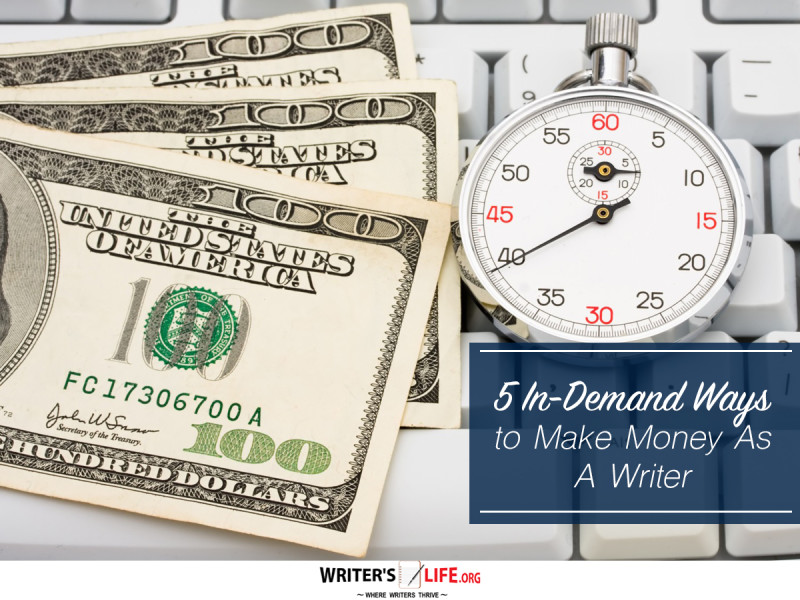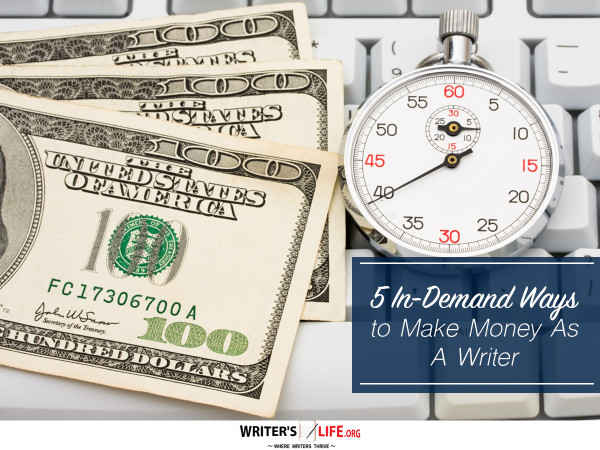 Share, Pin or Retweet If You Like Writing!
Digital marketing. Engagement. Online advertorials.  These aren't just buzz words that marketers throw around to sound smart; they're clear indicators of businesses' growing needs in the digital age.
Why am I bringing them up? Because over the past few years, I noticed a sharp increase in the demand for certain types of content. I'm getting fewer requests for physical flyers or brochures, and more pings for writing gigs involving blog posts and newsletters. And from what I've gathered, this demand will only continue to grow.
Would you like to make a living as a freelancer? Then you might be interested in the Writers Life Get Paid to Write Course that can help you find the richest sources of writer's income as well as teach you sought after skills and how to market yourself so that you attract high paying clients.
In this post, we'll explore what these content types are, why companies need them, and what you can do to land such gigs.
1. High quality blog posts
Businesses need blog posts to build communities, increase traffic, and rank higher on Google. However, with the search giant cracking down on keyword stuffed-posts and content farms, businesses are starting to learn that they need well-researched, high quality content in order to compete—and they're willing to pay top dollar for it.
How to land these gigs:
Asking for referrals or directly approaching prospects are two of my favorite ways to find clients to blog for. To increase your chances of securing a gig, I recommend targeting clients that either have an existing blog or have established some sort of social media presence (i.e. they have a Facebook, Twitter, or LinkedIn account.)
Why? Because an existing blog or social account is an indication that the company already recognizes the value of online marketing. Chances are, you won't have to educate them on why blogging is important—they already know that and they probably just don't have the skills or the time to take care of it. It's much easier to convert them compared to say, a company that doesn't even have a blog or Twitter account yet.
2. Ghostwritten blog posts
CEOs and other executives want to establish thought leadership and authority by publishing guest posts on reputable sites.  The thing is, these people may not have the time or writing skills to do it.
That's where you come in. You can write blog posts on their behalf, then publish them on top industry sites to build up your client's reputation and position them as a leader in their field.
How to land these gigs:
Executives that hire ghostwriters don't usually advertise the fact that they do this, so it'll be more effective to approach prospects yourself. Connect with the company founder or CEO directly and offer your ghostwriting services.
If you can't find their email address on the company website, connect through LinkedIn InMail. What I usually do is find a thought leadership piece written by their competitor, send them the link, and offer to write something similar.
3. Longform web content such as ebooks, whitepapers, guides, and reports
These are meaty pieces. They're research-heavy and are usually packed with statistics, studies, and insights.
Why the demand for longform web content? Companies have realized that educating users and providing valuable content is one of the best ways to reel in sign-ups or leads. They use these materials to incentivize people to complete a call to action--such as getting on a list or requesting a demo.
How to land these gigs:
Reaching out to new prospects may not be the best approach here. Longform web content gigs are huge projects, so companies won't be inclined to hire someone they haven't worked with. To land these gigs, consider up-selling your longform writing skills to existing or previous clients. Tell them about the benefits of releasing whitepapers or ebooks and then offer your services.
4. Company emails/newsletters
The nature and subject matter of company emails and newsletters can range from announcements, to staff picks, to "we miss you" emails. Generally speaking though, the goal of email marketing is to keep in touch and engage with existing customers/subscribers.
How to land these gigs:
They key to convincing clients to hire you is to show them that you understand their target audience. Send them sample emails or links to blog posts with compelling headlines and engaging copy that demonstrate how well you connect with people.
Knowledge of email marketing software is another obvious plus, so if you have any experience with MailChimp, Aweber, or similar programs, be sure to brag about it.
5. Web copy (homepage, about, team, careers, etc.)
This is pretty straightforward. There are more consumers and businesses online than ever before, so the demand for compelling web copy is at an all-time high.
How to land these gigs:
Aside from seeking referrals and inbound marketing, I've found that approaching clients and telling them what's wrong with their existing website is another good way to go. Head to a prospect's site and look for typos and other areas of improvement. Email them with your suggestions and offer to take care of their content needs.
Part of being a successful writer is also discipline. If you have a novel it can be an interesting challenge trying to reconcile your creative side with the business side. It is important to stay disciplined and on schedule. That is why The Get It Done, Writer's Toolkit is highly recommended for writers of fiction as it helps you stay on track and avoid writer's block and procrastination.
This post by Francesca Nicasio was published with the title 5 Lucrative and In-Demand Writing Gigs at http://allindiewriters.com/lucrative-writing-gigs/