Monetize Your Blog Without Posting Ads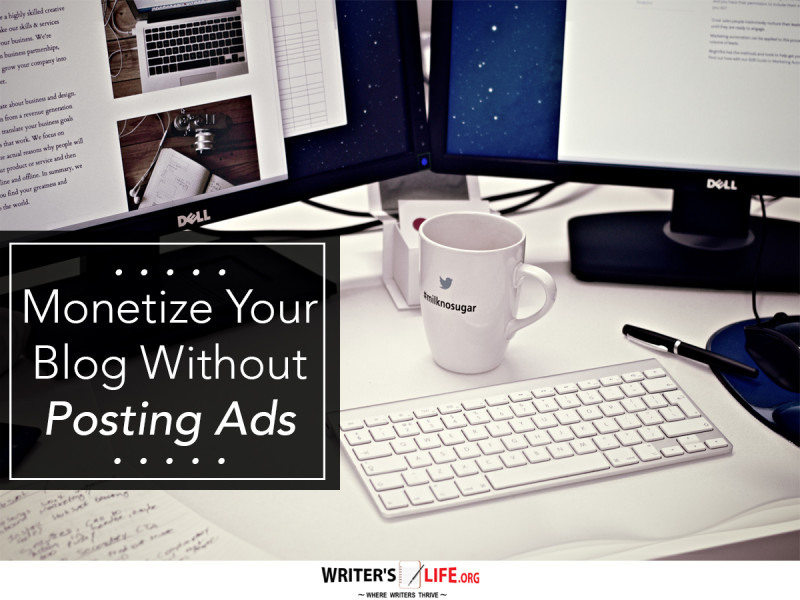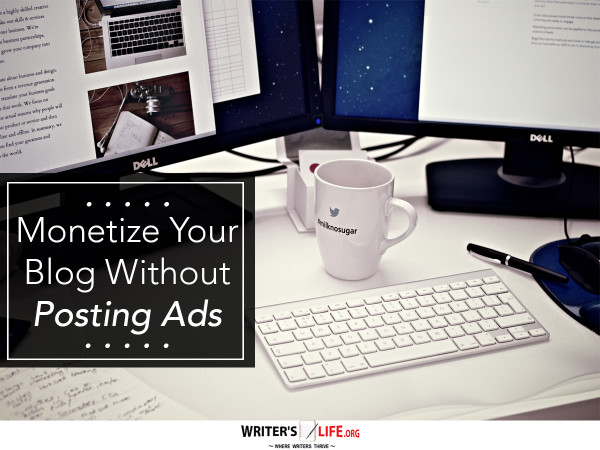 Share, Pin or Retweet If You Love Writing!
So, you're convinced that putting ads on your blog is a terrible idea.
Does that mean you have to absorb the costs of running your blog and continue working your tail off, never to earn a dime for your hard work?
Fortunately, no.
The truth is, the vast majority of truly successful bloggers have built careers from their blogs without resorting to blog ads. At least not ads in the usual sense.
How do they do it?
Well, instead of selling your readers through advertising, sell to your readers. Be involved in the transaction – don't hand it off to a stranger.
Sell something you've built yourself. Use the bond with your readers for good not evil. Build something for them, not around them.
Luckily, you have plenty of ways to do just that.
Idea #1: Offer a Service To Get Your Audience Unstuck
The easiest way to help your audience and start monetizing your blog without ads is to offer a service.
Services are the fastest track to earning good money from your blog because they don't take much to get up and running.
Two popular services offered by bloggers are:
Coaching: Jon Morrow has offered one-to-one coaching in the past, and this is how many bloggers choose to monetize their blogs initially (including myself).
Consulting: Naomi Dunford, the blogger behind IttyBiz, offers small business consulting to her base of loyal fans.
Offering a service to your audience is also a great way to keep your finger on the pulse of what your audience needs and wants while still earning money from your blog.
Idea #2: Create a Product Your Audience Will Love
Since you've spent so much time getting to know your audience, why not create your own products to meet their needs?
That may be an information product, such as:
E-books: The popular travel blogger "Nomadic Matt" from the blog of the same name has monetized his blog by delivering information to his readers through e-books.
Courses: His Royal Awesomeness Jon Morrow creates courses such as his popular guest blogging program, Guestblogging.com and Blog Launch Formula for his followers.
Membership Sites: Corbett Barr from the popular blog Think Traffic partnered with two other bloggers and rolled his blog into the popular membership site for entrepreneurs, Fizzle.co. Jon has Serious Bloggers Only.
Or maybe you could offer a physical product, such as:
Books: Many bloggers publish books as a form of monetization, like Jeff Goins has done with his new book, The Art of Work.
T-Shirts: Scott Dinsmore of Live Your Legend created a t-shirt line based on inspirational sayings voted on by his readers.
Accessories: The husband and wife bloggers behind the popular DIY blog Young House Love created a line of home goods which are sold at Target.
With the right research, you can create a product that sells like crazy from day one.
Idea #3: Sell Someone Else's Awesome Product
If you don't want to offer a service or develop your own product, another popular form of monetization is acting as an affiliate for products and services you love.
Pat Flynn from Smart Passive Income does this extremely well (as you'll note when you see his income reports) by acting as an affiliate in an honest and trustworthy way by only promoting products he genuinely believes in.
You can find all of the information that you need to get started as a newbie blogger or writer in our Get Paid to Write Course  CLICK HERE! , which is an online course developed by the Writers Life that teaches people how to become freelance writers.
Idea #4: Get Creative By Monetizing Your Unique Skills
The best part about blogging is that you run the show. Many bloggers have unique skills beyond writing and blogging, so why not find a way to use those talents to monetize your blog?
There are hundreds of examples of creative ways people did just this. Consider:
Henneke from Enchanting Marketing who uses her blog as a means to promote her freelance writing services, thereby catapulting her into a booming online career.
The hilarious blogger behind Hyperbole and a Half who used her blog as a platform to promote her comical cartoons.
Nathan Barry who has used his aptitude for app design to monetize, a process which he outlines in his App Design Handbook.
Noah Kagan from the popular blog OK Dork who saw a need in the market and built a plugin for website owners called SumoMe.
Derek Halpern, the author of the popular blog Social Triggers, who developed software called Zippy Courses to help his audience create courses too.
Chris Guillebeau, from the Art of Non-Conformity, saw the need for a conference in his niche.  The World Domination Summit is now celebrating the 5th anniversary.
Chris Ducker and Pat Flynn host one-day events called 1-Day Business Breakthrough.
These are examples of what other people have done with their skills. How can you use your unique skills to monetize your blog?
Abandon The Ads and Monetize Your Blog the Right Way
You're a serious blogger.
You work hard on your blog and you deserve to be rewarded.
That's why you're looking for ways to monetize.
And nobody can blame you for thinking that advertising might be the answer – it's a common belief.
But now you know the truth – advertising is a terrible way to make a living from your blog.
It's distracting for you and your readers, it makes you look like a cheap amateur, and perhaps worst of all, the amount of money it pays is almost embarrassing.
So if your blog has ads for products and companies you don't know and certainly don't endorse, it's time to strip them out.
Instead, offer something of your own. Partner with someone you trust.
Because if you're going to use your valuable blog space for something other than content, it had better be something you're proud of.
That is why The Get It Done, Writer's Toolkit is highly recommended for writers of fiction as it helps you stay on track and avoid writer's block and procrastination.
This post is an excerpt from a blog  by Sarah Peterson and originally posted with the title 13 Reasons Why Blog Ads Are a Sily Monetization Strategy (And What To Do Instead)  http://boostblogtraffic.com/blog-ads/#more-3256