Why Popular Blogs Crash and How to Prevent It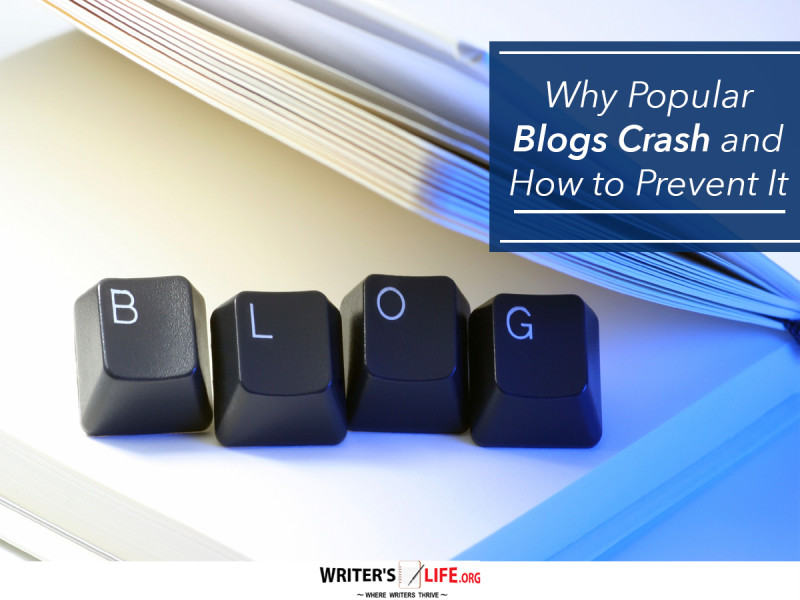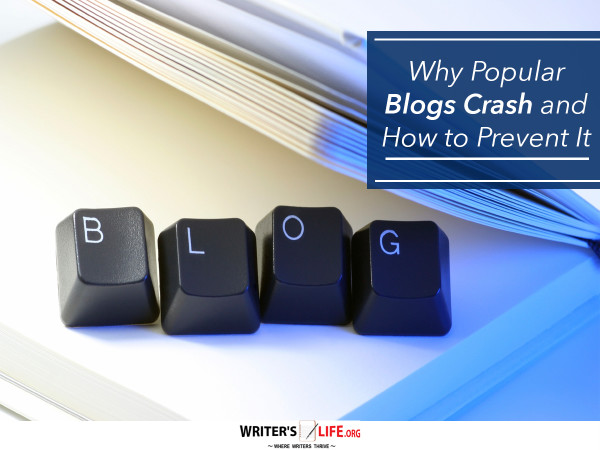 Share, Pin or Retweet If you Love Writing!
It's the nightmare scenario for any blogger. All the hours and effort you've invested in writing, promoting and developing your site, only for it to go down as soon as you hit the jackpot.
An article that goes viral, a retweet from a high-profile influencer or a link from a top-tier website: it's what you've been working towards, but is your blog ready to cope with the resulting traffic?
If you're yet to find out the hard way, your web hosting and server setup can play a hugely important role in making your blog a success.
Pieces of content – in the form of blog posts and social media output – are often described in terms of being building blocks. Your hosting is the foundations on which your content is built. Get that wrong and it all comes tumbling down pretty quickly.
It's important to stay very organized when putting together a blog.You can find advice  inspiration, motivation and the organization skills that you need to stay on track as a happy, fulfilled and productive writer in  The Get It Done, Writer's Toolkit. This is an ebook / audio CD combo set that teaches writers how to optimize their performance and make the best of their time  whether they are blogging or writing novels.
How important is it that your blog is available?
That is the first – and perhaps the most important – question to ask yourself. It is something you need to repeatedly come back to when making decisions about your hosting arrangements.
National broadcasters, popular tech websites and high-traffic niche blogs are make up a huge portion of web hosting clients. Even within that relatively close demographic, people have different budgets, hosting requirements and answers to that all-important question.
In the 'jackpot' examples we mentioned, how much would it cost you – or maybe pain you – for your website to crash? Act according to your answer when weighing up which of these hosting tips for high-traffic blogs is right for your website.
1. Choose the right hosting package
The most fundamental aspect of website hosting is getting the right sort of package to begin with. As with anything in life, you tend to get what you pay for so don't expect an entry level package to serve enterprise ambition. Be realistic and choose a package with enough CPU and RAM to give the raw power your website needs.
As a rule of thumb, websites that attract flashes of traffic, like blogs, are well-suited to private cloud hosting supported by a content delivery network (CDN). This option gives the efficiency and scalability of the cloud, but with extra control and security. The CDN takes the strain off the main server by hosting photos and other static assets that might otherwise drain your resources.
2. Pick something scalable
As alluded to in the previous point, the way to deal with surges of traffic without breaking the bank is to opt for a hosting package that's flexible enough to scale-up when the crowds arrive and scale back down to something that's a bit more affordable when they've gone.
3. Use web server caching
A cache takes pages or assets within your blog and creates static versions of them which load much more quickly. This can result in 20x better performance from exactly the same server.
The impact on user experience is limited and the improvement in site speed dramatic. We tend to use caching tools such as NGINX and Varnish. Any blog that uses WordPress will benefit hugely from caching. In fact it's a must for maintaining decent performance levels.
4. Use servers close to your readers
Where is your traffic coming from? It is a good idea to have versions of your website hosted in data centres close to your main geographic hot-spots.So, if you're big in Brazil, hot in Hungary or in-demand in India, move your content closer to the audience. The result will be a better user experience and a more efficient use of your resources.
5. Tune your database
A tidy database can go a long way towards stopping your website crashing during busy periods. Slow queries, inefficient calls and multiple table joins – all of which can occur naturally as your website evolves over time – can cause slow performance on high-traffic websites
6. Use a database cache
Database queries are very often the cause of performance problems for high traffic websites, even if you've tuned your database as outlined above. Using a tool like Memcache or Redis will improve performance when large numbers of visitors are concurrently dipping in and out of articles, photos and other pieces of content.
7. Use lateral scaling and load balancing
Even the most powerful servers and their software have a 'hard limit' at which point their resources hit a wall. You can circumvent this by using more than one server and balancing the load across them.
This is the web hosting embodiment of the old adage, 'a problem shared is a problem halved'. It can achieve greater capacity and better performance while retaining cost-effectiveness.
8. Pay attention to your network
This starts at home by making sure you've got the basics right. In the past we've seen people tick the wrong box with usage limits or firewall settings and inadvertently limit their server resources.
Further afield, your hosting company will be using internet exchanges as part of their network. Check that there are no bottlenecks with their infrastructure and that sufficient bandwidth is being made available to your website.
Would you like to make a living as a freelancer or a blogger? Then you might be interested in the Writers Life Get Paid to Write Course that can help you find the richest sources of writer's income as well as teach you sought after skills and how to market yourself so that you attract high paying clients.
This post by Andrew Mabyin originally appeared with the title 8 Ways to Stop Your Blog Crashing As Soon As It Gets Popular at http://www.problogger.net/archives/2015/06/03/8-ways-to-stop-your-blog-crashing-as-soon-as-it-gets-popular/.