How To Write A Great Article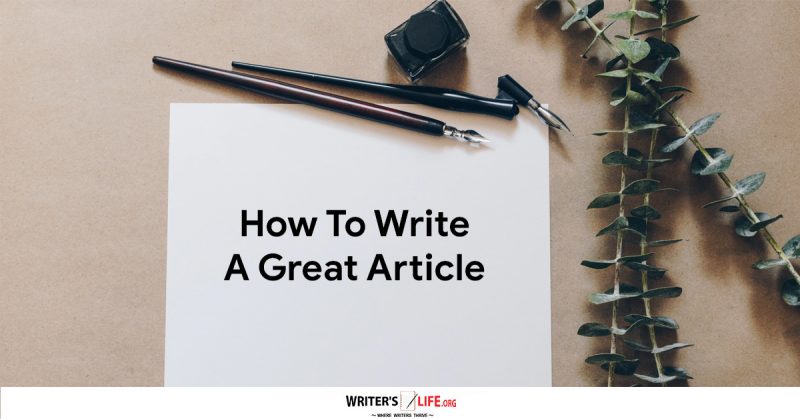 How To Write A Great Article
Whether you are trying to become a freelance writer, or you are looking to make your author blog more exciting, understanding the essential elements that make an excellent article will help you get there.
By using the tips below, you can make sure that every article you produce is valuable, exciting and appropriate for your target audience. So let's take a look.
Make it accessible
While some topics call for more academic writing, when you are creating blog posts or web pages or articles on more general topics, you should be wary of making them too complicated or specialist. You don't need to dumb down your writing, but at the same time remember that people want to be able to understand your article easily and so writing with clarity and using simple language will ensure that you don't isolate readers.
Know your reader
It's also vital that you fully understand who your reader is, the problems they have, their needs and desires and where they go looking for content. The better you know your audience, the easier it will be to craft an article that appeals to them.
Research your subject
A thoroughly researched article will naturally be better and more interesting than one that isn't. Take your time to fully understand your topic and figure out what it is you want to say. Back up claims with facts and figures to impress your audience and gain trust.
Break down points and keep paragraphs short
People are time poor, and if they want to find information, they usually prefer to be able to ingest it in bite-sized chunks so make sure you don't overwhelm them with huge blocks of text. Keep paragraphs short and use bullet points and headings to make your article more readable too.
Be unique
Try to think of a new fresh approach so that you aren't just regurgitating the same tired old information over and over. If you can find a way to say something new, and present something of value to your audience, you are likely to gain readers and admirers too!
Take time and care
Don't rush your article. Take time to check for spelling and grammar mistakes, to make sure that your article reads well, and to eliminate anything that doesn't add value.
Using these simple tips above can help ensure that your articles are useful, interesting and helpful to your readers. So next time you want to write one, use this as a guide to ensure your article is as good as it good be!