Unique Places To Look For Writing Inspiration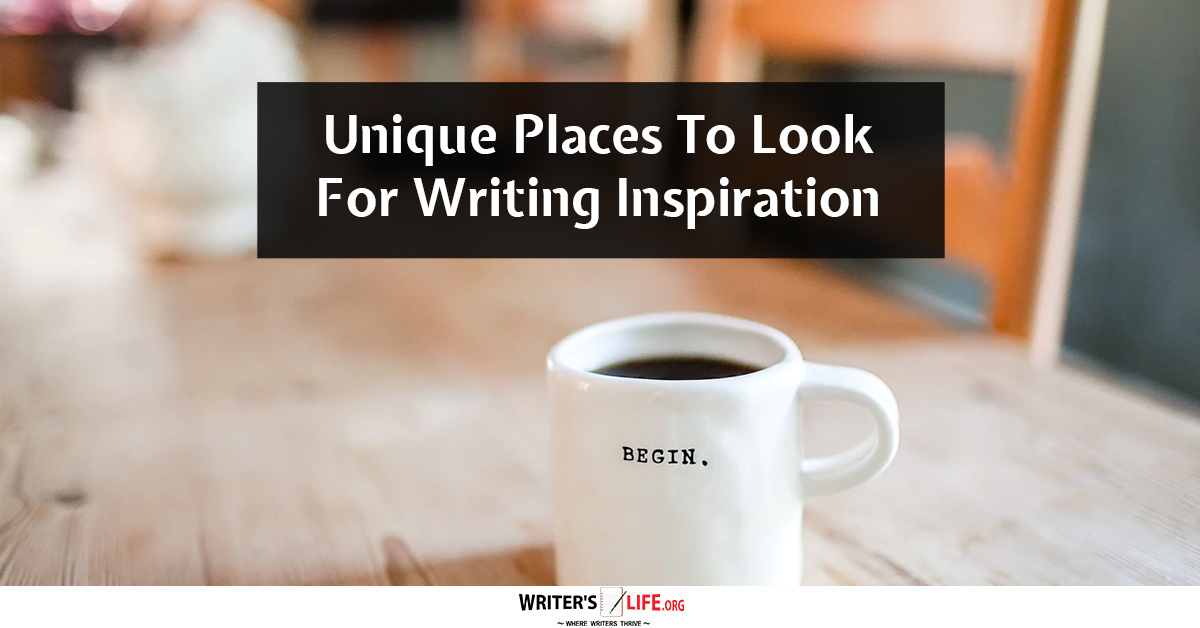 Sometimes it can be challenging to find writing inspiration and come up with fresh, exciting ideas for our stories. Or, perhaps we get halfway through our latest one and then suddenly hit a blank wall. Suddenly, we can't for the life of us figure out where the story is going to go next.
Coming up with new ideas and being able to continue to write new stories is imperative for any writer. If our inspiration suddenly dries up, we can't write!
It can be very unnerving for writers to have a bout of 'writer's block' (or whatever you want to call it). However, the most important thing to do is not panic and remember that it happens to the best of us!
Getting out of this state as quickly and painlessly as possible, however, is a priority. We might try all our usual methods to get those creative juices flowing again. However, if nothing is working, it might be time to try a different tactic.
Here are some more unusual places to looking for writing inspiration. Ones that just might give your imagination that boost it needs to get back on track.
Writing inspiration -where to look for it next
Social media
OK so some of us love social media and some of us hate it, but no one can deny it is a fantastic resource to tap into what other people are talking about. Social media gives us the latest news and trends, weird and hilarious goings-on in the world and much more. Social media platforms like Facebook and Twitter are endless wells of information. They provide an excellent resource for understanding how people communicate, how they think and feel, and what's important to them.
Classified ads
Classified ads are full of unusual things for sale, of things people are looking to buy, and everything else in between. If you browse through the classifieds as well as the dating sections of newspapers you can find some great ideas for stories right before your eyes!
Local and national papers
Newspapers are also great for pinching story ideas and developing them in new ways. Local papers are great for small-town news events which you could turn into powerfully dramatic stories with dark twists and amusing turns! The national news is ideal for learning more about the state of the world - using the news to inspire our stories is always a great idea - and gives them a grounding in reality that people can relate to too.
Public transport
Eavesdropping on other peoples conversations is an interesting way to get some new inspiration for your writing. Buy an all-day bus ticket and sit on it with a notebook and make notes about the people you see and the conversations you hear. You'll be sure to end the day with lots of exciting ideas that might just inspire you to create your next novel!
Photographs
A picture is said to speak a thousand words! Get out old family albums or go to your local library or charity shop and look at history books and old photographs. Something about the way a person is looking into the camera or the body language of people in a particular picture might well spark an idea - and all it takes is one little spark to create a great story.
Children's books
Children's books are fantastic places to look for inspiration for more grown-up tales. These stories have all the elements of a story, just told more simply. Browse through some of them in your local bookstore and think about how you can use them as the foundation for your next piece of work.
Taking up a new hobby or class
Writing inspiration comes to us not when we are sitting and fretting at our desks, but when we are out and about in the world, experiencing all the richness and wonder it has to offer. Get out there, try new things, and see what you can see. If you do, you are sure to feel refreshed and inspired in no time!
So now you know some great and unusual places to find writing inspiration, why not learn how to draw inspiration from other writers?
Get A Free Writer's Toolkit By Visiting http://www.writerslife.org/gid