Top Ten Books To Help You Get Better At Writing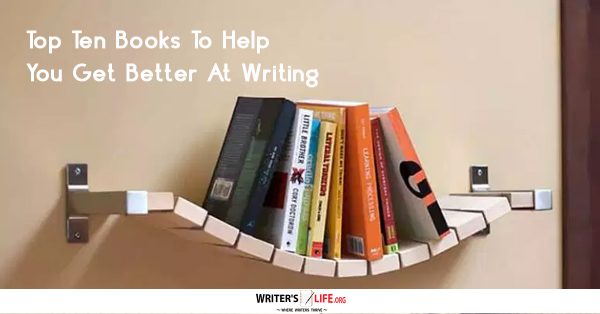 When it comes to writing there is always room for improvement. A writer who is willing to accept this and take the time and make an effort to continually progress and refine their skills will become better and better and will give themselves the very best chance of becoming successful.
One of the ways writers can get better at writing is by reading, and so why not kill two birds with one stone and read books designed to give you the very best tips and knowledge to improve your writing skills?
There are a lot of books out there which claim to help writers write, but which ones are the most effective? These ten books are insightful, well written and full of great tips and advice to help writers hone their skills:
1. The Sense of Style: The Thinking Person's Guide to Writing in the 21st Century by Steven Pinker
This book gives fresh and contemporary advice on how to improve your writing style. While it's not necessarily suitable for those just starting out, it's witty, smart and full of fascinating insights to help you get your writing into great shape.
2. Write Tight: Say Exactly What You Mean with Precision and Power by William Brohaugh
Every writer knows that being a thorough editor is all part and parcel of the job. This book teaches you how to trim the fat from your writing, to recognize where you've overwritten or added parts to a story that aren't necessary. Follow these tips to keep your writing sharp, precise and slick.
3. Indie Writer Survival Guide by Susan Kaye Quinn
The Indie Author Survival Guide is full of useful, easily digestible information to help improve your writing. It has a great conversational tone and feels as though you're getting a whole bunch of insider secrets from a learned friend.
4. 1001 Ways to Write Great Fiction, Get Published, and Earn Your Audience by Chuck Wendig
If you want a frank and honest approach on how to write well, this book will deliver. Beware the no-nonsense style might not be everyone's cup of tea but Wendigs advice is to the point, and very funny, if a little harsh at times.
5. On Writing: A Memoir of the Craft by Stephen King
No one can deny that the great Stephen King knows a thing or two about writing, it's, therefore, no wonder that his how-to guide is one of the most popular writing advice books out there. King's book is full of personal anecdotes that help writers feel as though they can make it too.
6. The Writer's Journey by Christopher Vogler
If you like to learn by example, The Writer's Journey is going to be right up your street. Jam-packed with useful examples, and excellent exercises to help you improve your writing, this book will help you get well on your way.
7. Self-Editing for Fiction Writers by Renni Browne and Dave King
This book is a genuinely fantastic guide to use when editing your manuscript. Go through each chapter and apply the advice to your work and you'll end up with an entirely different, and much improved, story by the end.
8. Write. Publish. Repeat. by Sean Platt and Johnny B. Truant
This book is a must-read for all writers. It offers something different to other writing advice books because it teaches writers that writing is a business, and how to learn the nature of that business and apply one's business knowledge effectively is, ultimately, what will help you sell your book.
9. The Creative Tarot by Jessica Crispin
The creative tarrot is great for writers who need some creative inspiration and will teach you how to tap into your most creative self, become more imaginative and experimental and have fun with your writing at the same time.
10. The Sense of Style by Steven Pinker
This book will help writers to recognise when their writing isn't very good, and how to put it right as well. It teaches writers how to let go of themselves, how to stop being so self-conscious with their writing and how to get out of the way so the reader can truly enjoy their work.
These ten books all bring something a little different to the table, and each one of them will give you some fantastic insight into how to make your writing better. By learning from the masters and the greats and applying their advice to your work you are sure to learn new skills and even surprise yourself along the way.