Staying Sane While Writing Fiction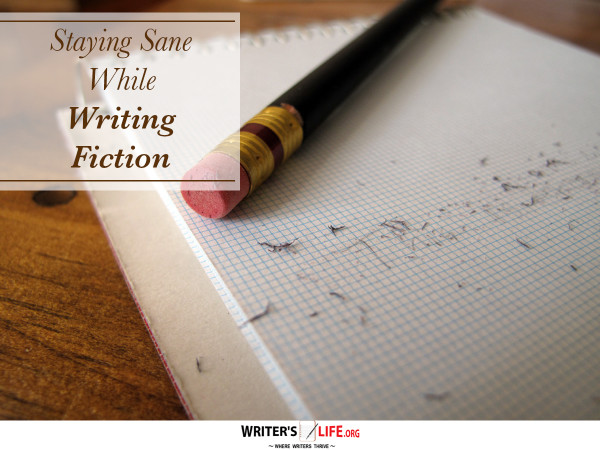 Share, pin or retweet if you love writing!
Sometimes writing can be so difficult, so terrifying, you experience a shaky, out-of-control feeling. You might be tempted to shut down that flow of energy and regain your sense of control.
We all do this. It's like junk food for a writer's soul.
Let me explain.
As writers, creative energy flows through us all, but this energy is often linked to our own sense of identity.
When you understand and accept your call to the page, your words flow more freely and you experience greater joy. When you deny who you are and resist your writing, then your creativity often becomes blocked.
It's scary to write, to let your words lead you into the great unknown. It can be even more terrifying to call yourself a writer out loud to others.
Rather than picking up pen and paper or your trusty laptop, you reach for a donut to numb yourself out instead. Maybe, you play a few hours of Minecraft.
Oh wait, no. You've got a sixty-hour work week at your high-stress job. You don't have time to write that silly short story playing over and over in your head.  But your book is waiting and you must stop procrastinating and get it done!  Trapped in a pattern?  Then perhaps you need to check into the Get It Done Writer's Toolkit (click here!)  that helps you make sure you get your project done on schedule and in an inspired, money-making way!  This ebook/audio CD combo set teaches you how to overcome writer's block and procrastination and also helps you find more time and the inspiration to write every day.
There are countless ways to avoid writing, but here are a few of the most popular forms of self-sabotage:
Food – Mmmmm…sugary or fatty foods, anything that comes in a To Go bag.
Alcohol – Make mine a double.
Drugs – Smoke, snort, shoot it up. Pop a handful pills.
Sex – 50 shades of kinky.
TV – Binge watch all six seasons of Breaking Bad in one weekend.
Social Media – Facebook, Twitter, Pinterest….they all have my interest.
Busyness – Your work is soooo important. Plus, all those chores.
Drama – Rather than write, you start a fight.
Sleep Deprivation – Stay up so late you become like the walking dead the next day.
My Favorite "Junk Foods for the Soul"
Don't misunderstand me, there is nothing wrong with food, alcohol, sex, or working hard to provide for your family. It's when you use and abuse them against yourself that you find trouble.
We all have one or two favorite ways to sabotage ourselves.
Mine is email and social media. I can fall down a Facebook rabbit hole faster than Alice tumbled through the looking glass. It's a great time waster.
Household chores are a close second. These are activities that must be done, but they can wait until my writing sessions are over.
So, stop fighting the call to write. Quit numbing yourself out with your drug of choice. Resisting it is so much harder than letting the words take you where you're supposed to go.
Even on the hardest days of writing, it's better than ignoring or dishonoring your dreams. Don't be afraid. Start practicing.
Do you need intensive advice on how to be a paid freelance writer?  Writers Life has come up with a product that can help you realize your career dreams and get paid!  You can learn about how to make a living as a writer by taking our How to Make a Living as A Writer Course (CLICK HERE!)
This blog entry by Marcy Mckay was first published under the title of Junk Food for the Writer's Soul at http://thewritepractice.com/junk-food/.