How To Find Great Proofreading Jobs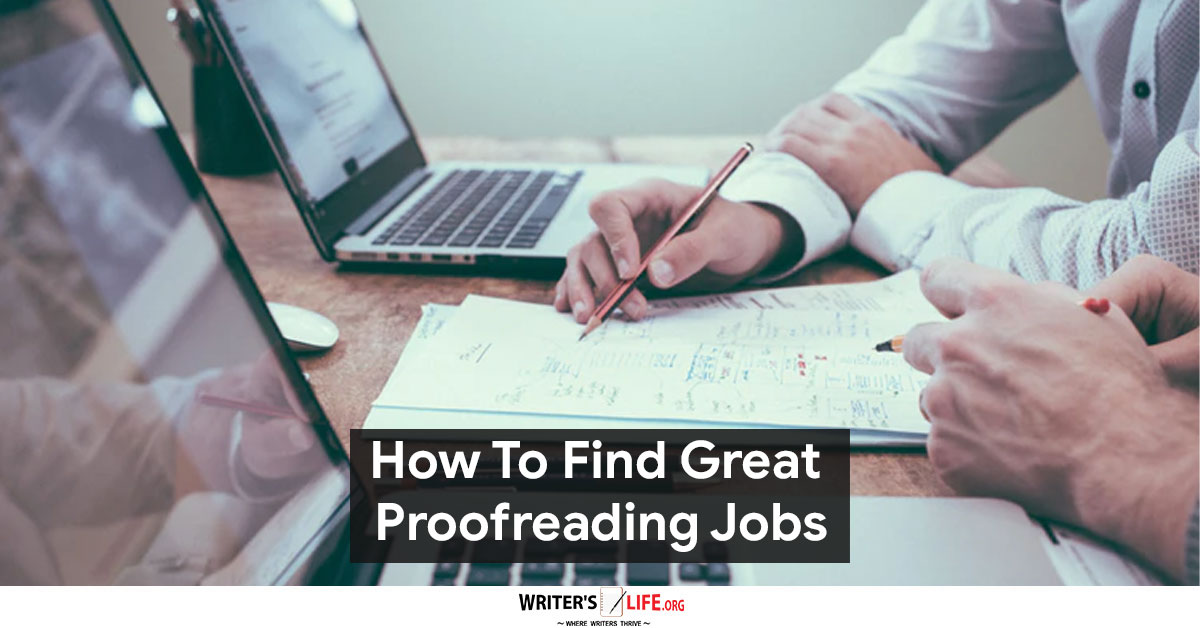 Looking for great proofreading jobs? We can help you find the best proofreading jobs to make some extra money! As a writer, you've no doubt spent plenty of time looking over your own work and trying to weed out errors, spelling and grammatical mistakes and inconsistencies in your story. All those hours spent painstakingly going through your manuscript means that you've probably gathered some pretty impressive proofreading skills. 
So if you are looking for a way to earn some money doing what you already do, why not consider offering your proofreading services out for hire? You might wish to consider taking a course to brush up on your skills and investing in some helpful resources such as programs that teach you all the grammar rules (no one can know every single one after all).
You should also build up a portfolio and may have to do a bit of proofreading work for free to get a robust portfolio and some glowing testimonials together.
But once you have done this, where do you find proofreading jobs?
Finding proofreading jobs - where to begin?
Here are some great places to start looking.
Upwork
Upwork is a fantastic place for proofreaders of all experience to land jobs. They have a considerable number of listings, and you can easily apply for the work that most interests you. It's also a great place for newbie writers to build up a reputation before they start going for the more prominent, higher-paid positions available.
Fiverr
Fiverr is another useful site, particularly for those just starting their proofreading role. You can become a seller and offer your services out as well as browse for job listings at the same time. The more projects you complete and receive excellent feedback for, the more you'll end up being selected. It's not the best platform if you are hoping to get paid the big bucks, but worth investigating, particularly if you are looking at doing proofreading as a side gig.
Scribed
Scribendi has a comprehensive application process, but it is worth persevering with it as if accepted, you don't have to pay any percentage of your earnings to the company (unlike the previous two). The jobs offered cover a broad range of topics so you should be able to find satisfying work and earn around $20 per hour.
Reedsy
If you are hoping to read full-length manuscripts, this is the site for you. However, one of the requirements is that you have ten published books that you have previously proofread before you can join. So this is one for those who are more experienced. The payoffs, however, are high as the percentage cut is only 10 percent and you can find some well-paid jobs on there as well.
The Editorial Freelancers Association
The Editorial Freelancers Association (EFA) is a little more controlled than others. You have to become a member to gain access and pay an annual fee. However, doing so means that you can have access to some exciting and highly paid projects and also their broad range of online classes, which can help to build up your skills.
The above are just five great places to start searching for proofreading gigs, and once you get going, there is no reason why you couldn't begin to approach businesses yourself, join proofreading networks on LinkedIn and earn some serious cash in return. So if you think that you might enjoy workings a proofreader, why not get started today? 
So now you know where to find great proofreading jobs, why not discover where to find the best copywriting jobs too?
Get A Free Writer's Toolkit By Visiting http://www.writerslife.org/gid