Essential Advice For Novice Writers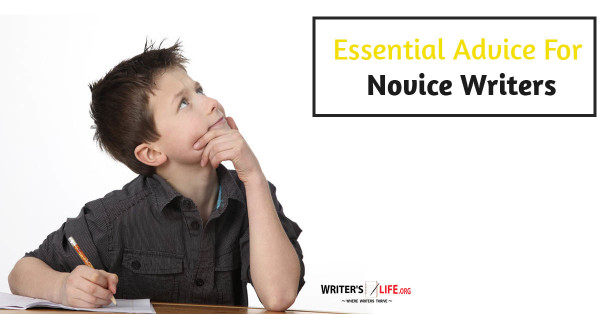 Hello, and welcome back to Writer's Life! Today, I'd like to offer you some advice if you're new to writing. I will presume you've just decided to move onto a new phase in your life, one in which you write for other people to read instead of just having some story ideas in your head and family or friends who say "you should write for a living." If this is the first time you've considered doing this, here is some essential advice for novice writers you may find useful.
Write because you enjoy it
When you are just starting out as a writer, it is important to stay focused on it when you do write. One way to maintain your focus is to enjoy your writing and the time you spend writing. If it seems like a chore, you are much less likely to stick with it. If you have space, create a place just for writing, and create a schedule for yourself (and stick to it). When it is time to write, go to that writing area and write. Decorate it with reminders and meaningful, inspiring quotes. If you drink coffee or tea, you might consider getting yourself a mug or cup with a pithy saying or inspiring quote, and use it only when you are writing. The idea is to draw inspiration every time you sit down to write, creating a pleasurable experience each time. In doing that you can create a positive association between the two, making it more likely you'll continue to enjoy it.
Something else to consider when first starting out is that you will probably be much more successful in the long run if you write because you like to write, rather than worrying about whether or not you can make any money at it. Focus on doing it for your own enjoyment. Even if you ultimately aim to sell your writing, writing because you enjoy it will still be one of your best tools.
Write what you like
While good advice anytime, really, it can be helpful when you start out by focusing on writing what you like. If you like writing science fiction, focus on that; if you prefer westerns, write those instead. By focusing at first on the kind of writing you enjoy, you're more likely to stay interested in it and develop good habits. When you are writing in your preferred genre, be careful not to get discouraged if your own work doesn't read like Asimov or L'Amour, or whatever other author is your favorite. It won't, and that's good for two reasons. First, you should find your own voice. By writing what you like, and writing when it's time to write, you'll discover your voice as you go. Second, even your favorite author had to revise and edit their work—usually, multiple times—before they published it. They might still sound like themselves in those first drafts, but it requires tremendous work on second, third, even fourth drafts before the polished work is completed. Don't get discouraged, if you keep writing what you like you can find success!
Write what you know
Another tip that can ease your transition into becoming a writer is to write about the things with which you are familiar. If you've been an RN for the last fifteen years, writing in the medical field will probably be easier for you. That could be fiction or non-fiction; writing a crime drama about a rogue nurse who murders patients in ways that only another nurse could solve, for example, would sound more believable coming from the pen of a long-time nurse. Your experience will enable you to capture a reader's imagination because you are intimately familiar with the settings, the dialog between characters, and other facets of storytelling. You may find it easier to start with non-fiction; say, a nurse's guide to medication dosing or a primer for new Med-Surg nurses. These general principles hold true for anything in which you have developed expertise. By starting off writing about things for which you have a passion or special knowledge, you may find it more pleasing and fulfilling to write when you are first starting, something that can carry over into a lifetime of writing.
In Conclusion
Writing can be an excellent way to express your creativity, allowing you to explore ideas and create new worlds while sitting at your desk. If you are thinking about pursuing writing so you can share those ideas and worlds with other people, I hope that this essential advice for novice writers will help start you on your journey. As always, if you have questions or comments, leave them below, and happy writing!