How To Write A Popular Article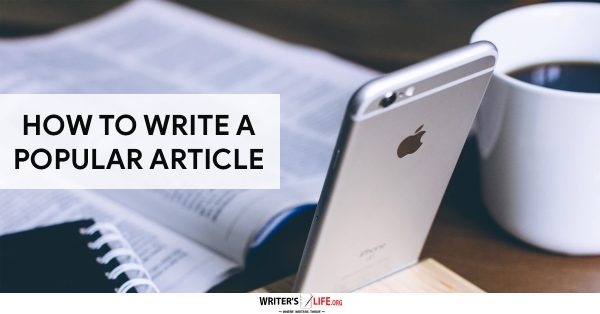 If you want to be successful as a freelance writer, you need to understand what elements make an article accessible. Sometimes it takes more than just good writing to make sure that your material meets the needs of your intended reader, and indeed, even reaches them in the first place.
So what can you do to ensure that you write a successful article? Here are some helpful tips:
Have a catchy headline
A catchy headline is so important. It will give your readers insight into what your article is going to be about and is vital in influencing their decision as to whether to click or not click on your content. Do your research and see what headlines other popular articles have used, and identify any patterns to help make sure your headline makes people take notice.
Know your audience
You should always write with an intended reader in mind, and the better you know that reader, the more likely it is that your article will get those all-important clicks. Make sure that you know what they are looking for, and that within your piece you are asking and answering the kinds of questions they will be asking.
Have a human connection
Understanding your reader is one thing, but connecting with them on an emotional level is another. However, research shows that people who are engaged emotionally with a piece of content are more likely to act, and so whether you want them to like your article, sign up to your newsletter or visit your website, if you can get them to engage on a human level, they are much more likely to do so.
Structure your article well and pay attention to SEO
Of course, the writing needs to be good. It also needs to be a well-structured, thoroughly researched, smart, valuable, and entertaining piece of content that is optimized for SEO. By really taking the time to produce a quality article, you will be sure to stand out over the rest of your competition. It's also a good idea to try and use the active voice as this will ensure that your article speaks directly to the reader and is, therefore, more engaging.
Avoid jargon
Remember, no matter what an expert you fancy yourself on a particular subject, those who come across your article might not have the same level of expertise. Therefore avoid jargon and acronyms, break up more extensive paragraphs, keep sentences short and simple and try to simplify ideas without being condescending.
By using the above tips, you can make sure that your article stands out from the crowd, reaches the people you want to read it and impresses them enough to engage with it when they do. Do you have any tips on how to write a good article? Why not share them with us here?