The Best Ways To Brainstorm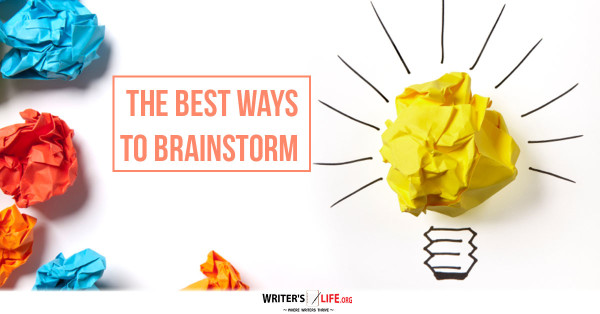 Brainstorming is a really helpful way of coming up with new ideas and inspiration for your writing.
Brainstorming is all about giving yourself free reign, a time where every idea counts, where you simply spill everything you have been carrying in your head out of it, so you can examine your ideas fully and see which ones you can go on to develop further.
People use brainstorming for many reasons, be it writing academic essays, project planning for businesses or creative writing.
You might remember being asked to brainstorm at school? Your teacher would give you the central idea and then you would be asked to flesh it out, mapping different related ideas from it.
Of course, brainstorming isn't just about writing down ideas. Using pictures from magazines, colouring in, scribbling sketches, and so on can help bring order to ideas as you write them down, and also get you into a creative mindset too!
So, before you begin your brainstorming sessions, what do you need to do?
Make sure you have the right tools
Get together all the physical materials you might need for your brainstorming session, pens, paper, glitter, glue, newspapers and magazines, paints, rulers, stickers, post-it notes - whatever you think you might need.
Of course, if you want to do it on your computer this is fine too, and there are actually plenty of software programs that can help you with this.
Take yourself off on an artist 'date'
You may have heard of an artist date before, or perhaps you have not. An artist date is a concept that was first introduced by Julia Cameron, author of creative help books such as 'The Artists Way'.
An artists date is all about dedicating time to your craft. You take yourself somewhere, or embark on an activity just for your creative self, something that inspires and excites you and ignites your creativity.
Set a time and make sure you stick to it
Give yourself some space in your day for your brainstorming session, and make sure you don't cancel on yourself! Find a room with plenty of space, preferably one where you won't be easily disturbed, and then gather all your tools together.
Before you start give yourself a moment to think about your idea, and your goals for the session. Then it is time to begin.
Be methodical in your brainstorming
The most effective brainstorming sessions will be organised in a logical way, so when we finish we can easily see what we have done and immediately use it in our next writing session.
Break it down into different points. Have sections for your characters, your main theme, your novels genre, the big action scenes and so on.
Spend time on each and don't move on to the next until you feel as though you have fully explored that section.
Use it!
Once you have finished your brainstorming session, don't just sit and  tidy everything away and do nothing with it. Stick it up on a wall where you can see it, and next time you write refer to it wherever you can.
You may not use every idea you have but if you simply put it away and forget about it, you might miss some gems of ideas you had - ones that could really help shape your novel.
Brainstorming is a great way to get all our ideas out, inspire creativity, and help shape and organise our thoughts. Next time you feel a story brewing, why not try having a brainstorming session before you begin and see what ideas you come up with?