How Much Money Can You Make From Your Writing?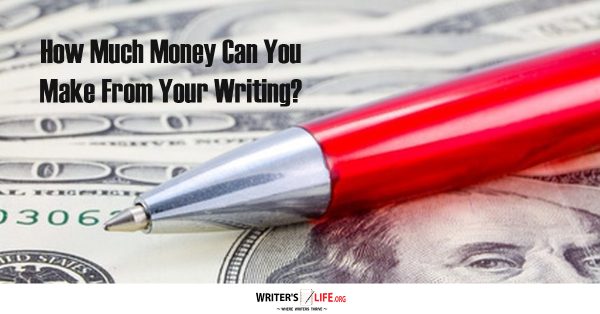 When it comes to writing, be it fiction or non-fiction, many writers want to know how much they can realistically expect to make.
The truth is many writers have misconceptions about not only how much money their books could make them, but also the cost of getting a book published and on the market in the first place. Both the self-publishing and traditional publishing route have their advantages and disadvantages, and while it is impossible to give an exact figure, by breaking down the costs and profits an author can expect to deal with we can provide more of an idea of how much money one might be able to make.
Self-Publishing
Costs
When you self-publish a book, you have to remember that there are costs you need to pay upfront. Getting your book professionally edited, having your book cover professionally designed and setting aside some budget to help with marketing your book are all important, and could set you back a few thousand before you've even begun. If you list your books on websites such as Amazon you'll need to take into account their royalties for each sale you make. If you get your books into bookstores they may well pay upfront but on a sale or return basis, which means you could end up having to return the money if your books don't sell.
Profits
Your profit naturally depends on the price point which you set your book at and the number of books you sell! If you buy your books directly from a printer at cost and try to sell them yourself, you can keep all the profit. However, reaching a broad audience this way is challenging. Exploring ebook options can mean less cost to you, but then you'll price your book lower than if you were selling a hard copy.
Traditional Publishing
The advance and royalties
If you manage to land a traditional publishing deal, you can expect them to pay you an advance. This will be to secure the book deal with you and is paid before any book sales occur. An advance will be paid against royalties meaning that you won't make any other money until your book sales have surpassed the advance paid. Once that happens you will be paid a royalty which will be an agreed percentage of the sale price for each unit sold.
It is worth noting that a traditional publisher shouldn't ask you to pay them any money upfront. If they do this it should set off warning bells, and you should be careful about signing anything with them as many scam publishers will try to make authors pay, and then do very little to help them sell their book.
Of course, there are other ways to make money from your writing too. Entering your work into competitions where there is prize money up for grabs may be a long shot but is still worth doing. You can also find publications that accept short stories or poetry or even would be willing to publish your novel chapter by chapter over a series of weeks or months.
Article and blog post writing can also be lucrative. In fact, this is by far the easiest and most profitable way to make money as a writer. If you can find work as a freelance writer, and build up your portfolio, this can be a helpful way to boost your income, so you don't have to rely on the uncertainty of making money through book sales.
When it comes to how much money you can make from your writing, it comes down to how much effort you are willing to put in. The more you can do to market your book the more likely you are to see sales soar. The more experience you get writing blogs and articles, the better, higher paid jobs you can win. At the end of the day, it is essential for writers to be realistic, only a fraction of us can survive purely on book sales alone, so try not to make money your primary motivation for writing your book and instead focus on the satisfaction you'll feel for achieving a lifelong goal!