The Harsh Writing Advice You Need To Hear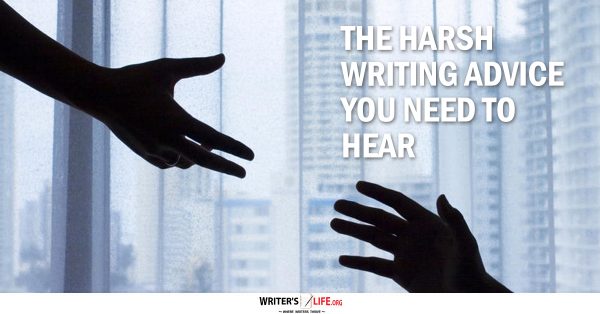 We spend a lot of time telling our fellow writers to go easy on themselves. After all, we are often our own worst critics and enemies. We can be so self-critical that sometimes it stops us writing altogether, and it's important to do everything we can to support and encourage one another, and try not to let that happen.
However sometimes it's important to hear the cold hard truth, and while it may seem harsh, often the best pieces of advice are not the ones we want to hear, but the ones we need to.
Every writer, even the most fantastic talented of us all, will receive criticism from time to time, and let's not forget the rejection that is almost a rite of passage for writers. But the truth is perhaps because writing is so tough, that's what makes us keep fighting, stay motivated, and strive to reach our goals - because, let's face it, the payoff is well worth it.
So here is some harsh but true writing advice that every writer should listen to.
Your first draft is terrible. No one writes a perfect first draft. If you aren't willing to put the work in to fix it then why bother in the first place?
Sometimes you think you are way better than you are. Every writer has moments where they think they are the best thing ever, characters that they fall in love with who everyone else thinks are boring, and parts of their story they think are great when actually they really, really aren't.
You probably won't be rich. Don't write to get rich or become famous. You'll probably spend much of your life severely disappointed.
You will almost certainly be miserable. Writing is lovely, stressful and tough. But if you can get through the hard times there are almost always great rewards at the end.
You may lose friends/ sleep/ sanity. When you really get into writing sometimes it can take over your whole life. Are you prepared to make the sacrifice?
There are no rules. You may think that you understand the rules but really when it comes to writing anything goes!
If you don't read, you probably won't be a very good writer. Always make time for reading, it's our number one research tool.
If you study the craft you will get better. Writing is an art form sure, but it's also a science, and a craft. Always be open to learning new things and practice as much as you can - it's the only way to get better.
Sometimes people will know better. Your book is your baby, but sometimes people will give you constructive criticism. Learn how to appreciate it and take it. You might not like it, but sometimes listening to other people can really turn your book around.
You will never write anything that will please everyone. There will always be someone who thinks your story is rubbish. Learn to accept it. You can't win 'em all after all.
So there you have it. Sometimes the truth hurts. But the good news is, after all that, if you still want to keep going, well then it's safe to say you are a real writer for sure!