Famous Writers Writing Habits – Could They Make You A Better Writer?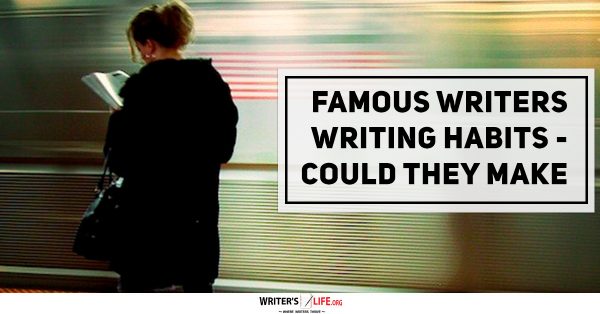 There are loads of pieces of advice out there about how to become a better writer. But perhaps the most sounds advice comes from other authors. Ones who have been there and done that and have proven that they can forge a successful writing career for themselves.
Some of it may sound a little unorthodox, but hey, if the likes of Ernest Hemingway and James Joyce are preaching it, surely it is worth paying attention to?
So could these habits of famous writers be the key to your own success? Let's take a look.
Stephen King has strong opinions about how one should go about writing. He certainly doesn't think that dragging it out is the way to write a successful book. In fact, King claims to write ten pages each and every day, which is perhaps why he is one of the most prolific writers out there. His world famous books are also proof of his success - but could you write ten pages a day? It would certainly feel like an incredible achievement - perhaps it's time to set those alarms even earlier?! If you want to know more about Stephen Kings writing habits his book, 'On Writing' reveals a lot.
Ernest Hemingway, however, had rather different (and more manageable) ideas. He claims to aim to write 500 words a day each and every day. He advised writing in the morning in a calm and quiet place. Indeed, for writers just starting out this seems more doable - perhaps start with Hemingway and aim for King - we are sure you'll get there eventually!
Philip Roth is one of the most celebrated writers of our time, so perhaps we can learn a thing or two from him? He claims to walk half a mile for every page he writes - while we are not sure if this could be distracting, but at least you would get fit at the same time!
Perfectionists will appreciate the work of the great James Joyce. Joyce is said to have taken painstaking care with each and every sentence that he wrote. Instead of aiming to get to a particular word count or write a certain number of words, he instead prided himself on quality over quantity - it certainly seemed to work for him!
Joyce Carol Oates has some solid advice for us too. Write in the morning before you do anything else. She also believes that if you are in 'zone' just keep going and has been known to write for hours on end and eventually only breakfasting at 2 or 3 pm! (We are not sure we could last that long without a food break!).
Vladimir Nabokov who is the author of celebrated works such as Lolita, Pale Fire and Ada wrote his first drafts on index cards. He preferred to write all the scenes down this way, look at them and re-arrange them as he saw fit. Apparently, Ada was first written on over 2,000  of such cards.
So, do any of these writing methods appeals to you? Writers have many weird and wonderful writing habits, what are yours?