5 Tools For Writers: A Roundup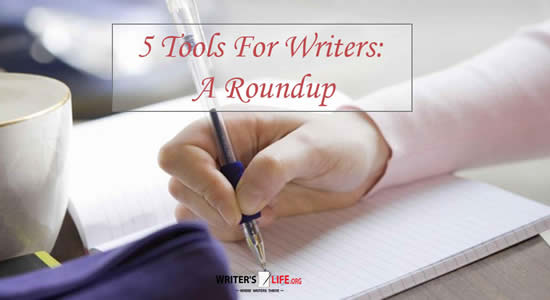 5 Tools For Writers: A Roundup
Hello! Welcome to the Writer's Life Roundup of 5 Tools For Writers. Today's topic is an overview of 5 commonly used tools that can help a writer organize, produce, and prepare their work for publishing, no matter what kind of writing or where it is intended to be published. Our writer's tools roundup will cover:
Microsoft Word
Scrivener
Ulysses
Storyist
Google Docs
Each of these is an excellent tool for a writer to use while creating, editing, and preparing their work for publication. Today's coverage is just a brief overview, listing some of their pros and cons for writing. Each tool will get a more in-depth review in a separate article. The aim today is to give you a sense for which tool might work better for your style of writing and your project. The follow-up articles will help you learn how to make the most of the tool you choose.
Microsoft Word is the standby and a default choice for many writers. It is also the tool most publishers use for formatting books for print when reviewing submissions, or while pursuing the editing and proofreading process for publications of all kinds. It is an excellent word processing application and has a vast array of tools for the writer.  It can import many file types and many other tools export into Word formats, although most documents of that kind will need to be edited in Word to look right. It also exports into a variety of formats, including HTML for blog writers. Word HTML export is not perfect, however, and will often need to be manipulated afterward to make it look right in a web browser. Finally, it is quite well suited to word processing as a single document, but can become unwieldy for long documents—such as novels or similar-length projects—and rearranging parts of long documents can be tedious. Word is available on Windows, Macintosh, iPad, and Android tablet, but can be very expensive unless you have access through work or school.
Pros:
Essentially universal
Wide array of tools for writers of all kinds
Excellent formatting options
Documents can be shared, changes tracked and annotated
Available across a wide variety of platforms (Windows, Mac, Android, iOS, others)
Cons:
Expensive, unless available from work or school
Complexity can be overwhelming
Output formats for blogs and certain other publishing media can be dodgy, requiring after-export work to fix problems
Long or large documents (novels, for example) can be very tricky to handle
Scrivener is really more of a "writing platform" than it is an application for writing. It can be used simply as a word processor, but its true strength is in its ability to help structure writing projects. However, since very few (if any) publishers or agents use Scrivener, all documents must be "compiled" into another format, usually Microsoft Word. Scrivener is available for both Windows and Macintosh, and a port for Linux is also available. Although there are options to sync Scrivener with mobile editors, there is no mobile version of Scrivener. The company who develops it has been working on a version for iPad, but it's been under development for several years. Scrivener costs $45 for the Macintosh version and $40 for the Windows version.
Pros:
Specifically designed tool for writers as a complete toolkit for all kinds of writers
Structure of document can be easily changed, even for very long and large writing projects
Research for each writing project can be stored within the project itself for easy retrieval, including character notes with images, settings, etc.
Full-screen, distraction-free writing mode
Multiple ways to visualize the flow of a project, including outlines, as index cards on cork board, and others
Can sync documents with those created with certain external editors
Cons:
Projects likely to need exporting when finished, to HTML or Word in many cases, and export process is not perfect
Complexity can be overwhelming
Not available on mobile devices—mobile writers will need to use a different editor, and sync to Scrivener
Ulysses is a word processor focused primarily on the task of getting words into a document. In that sense, it is simpler than both Word and Scrivener, but there is more to it than just words on the screen. It can group documents (which it refers to as "sheets") together, allowing scenes from a short story or novel to remain grouped. As long as the documents are stored by Ulysses, they also are grouped with any attachments or embedded images. Ulysses costs $44.99 for the Macintosh version and $19.99 for the iPad version.
Pros:
Fairly simple editing software, formatting documents not a major concern or focus of the software
Markdown support for minimal formatting control
Ability to group related "sheets" together
Desktop/Laptop (Mac) and mobile (iPad) versions
Cons:
Might be too simple for some, with very few formatting tools
Projects will likely need exporting when finished, and export formats may require additional work
Not available to Windows or Android users
Storyist is similar to Scrivener, in that it really constitutes more of a "writing platform" than simply a word processing application. As such, it has many of the same advantages and disadvantages. It is generally simpler, and does not offer a feature set as extensive as Scrivener for some things, but does offer things Scrivener doesn't, like snippets. Storyist is available for Macintosh, and iPad and iPhone. The Macintosh version costs $59, and the iPad or iPhone version costs $14.99.
Pros:
Simpler than Scrivener, but more complex than Ulysses
Project controls include index card view and outline view
Specific tools for screenwriters
Research for each writing project can be stored within the project itself, including character notes with images, settings, etc.
Projects sync across platforms; changes made on mobile devices are updated and available on Macintosh version as well (as long as the same username is used on both)
Cons:
Complexity can be overwhelming
Projects will likely need exporting when finished, and the work that comes with having to fix likely formatting errors after
Not available for Windows or Android users
Google Docs is a word processing application similar to Word, Pages, or Open Office, although it does have advantages and disadvantages compared to them. One of the biggest advantages is that it costs $0, and can be run from the web in just about any web browser, as well as the iPad or iPhone and Android devices. It is a simpler word processor than Word, and does not have a feature-for-feature match with Word; this can be either an advantage or a disadvantage, depending on your perspective. Many people find Google Docs easier to use than Word, and some find it too limiting.
Pros:
$0 cost; must have a google account, however (Gmail or google apps)
Formatting tools similar to Word, Scrivener, or Storyist
Available for Windows, Macintosh, iPad, iPhone, Android phone or tablet, and on the web through a web browser
Free online storage; Google allows unlimited Google Docs documents to be stored online in that format
Cons:
Documents will likely need formatting when finished, and the work that comes with having to fix likely formatting errors afterward
Can be complex, complexity can be overwhelming
Long or large format documents (like novels) can be tricky to handle
So, there's a brief overview of 5 tools for writers. Over the next two weeks, I'll go over each of them in turn, giving you some specific tricks and techniques you can use to make it your own tool, and to help overcome any of the cons you might encounter.