3 Major Writing Problems And How To Solve Them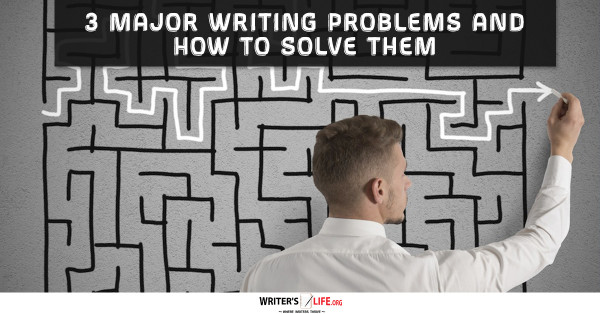 Writers face many different challenges when trying to perfect their craft, and whether you are attempting to write an essay or get that new blog post polished and ready for publishing, there are some common challenges that seem to crop up time and time again, regardless of the type of writing you are working on.
The three major writing problems that most writers seem to struggle with are:
Beginning their work
Keeping content relevant, clean and clear
Finding a way to finish
Why do these problems occur? Well, the answer is quite simple and usually can be traced back to the same thing.
You aren't sure what you are trying to say in the first place.
Without having a clear understanding of why you are writing the piece of content in the first place and what its purpose is, it can be tough to know where to start, even harder to cut all the fluff, and almost impossible to end it!
However, happily, there are some simple rules you can follow which will help you avoid these problems and keep your writing focused, useful and purposeful.
Know your end goal
Once you have a clearly defined goal, it is much easier to work backwards and figure out what you need to do to get there. Once you are certain of your objective, and your reason for writing this piece of content it will become much more apparent what it is you have to write.
Ask yourself questions
What does your reader want to know? How familiar are they with the subject matter already? Why do they have these questions? How can you help them resolve their problems?
Content should be informative and useful so it is important to understand what your reader is hoping to gain from reading your piece before you begin to write. If they have questions, you need to know what they are, and then you need to know how to answer them.
Make a plan
Before you start writing your piece, map it out. Think of a catchy headline which not only commands attention but also explains what your content will be about. Break your content down into different subheadings - this will ensure that you are covering all the points that you need to make to answer your reader's questions.
Write your piece
Once you have your headline and subheadings and have a clearly defined goal, a precise understanding of the questions you must answer, and a firm understanding of why these questions must be answered, then it is time to write.
Work through each of your headings one by one and make sure you are sticking to the topic, if you find yourself going off track, stop and ask yourself if this information is relevant to your piece.
Time to edit
Go back to your work with your goal and questions firmly in mind. Did you answer everything? Can you rephrase your wording so the answer is more clearly defined? Are you clear and direct? Always look for opportunities to make your writing clear and more accessible to your reader.
Of course, every writer has their way of approaching a new piece of work. However, by following these tips, you can overcome the most common writing problems and be left with a clear, purposeful piece of content that will be helpful and interesting for your readers.