10 Easy Tips To Start Writing Your Novel Today!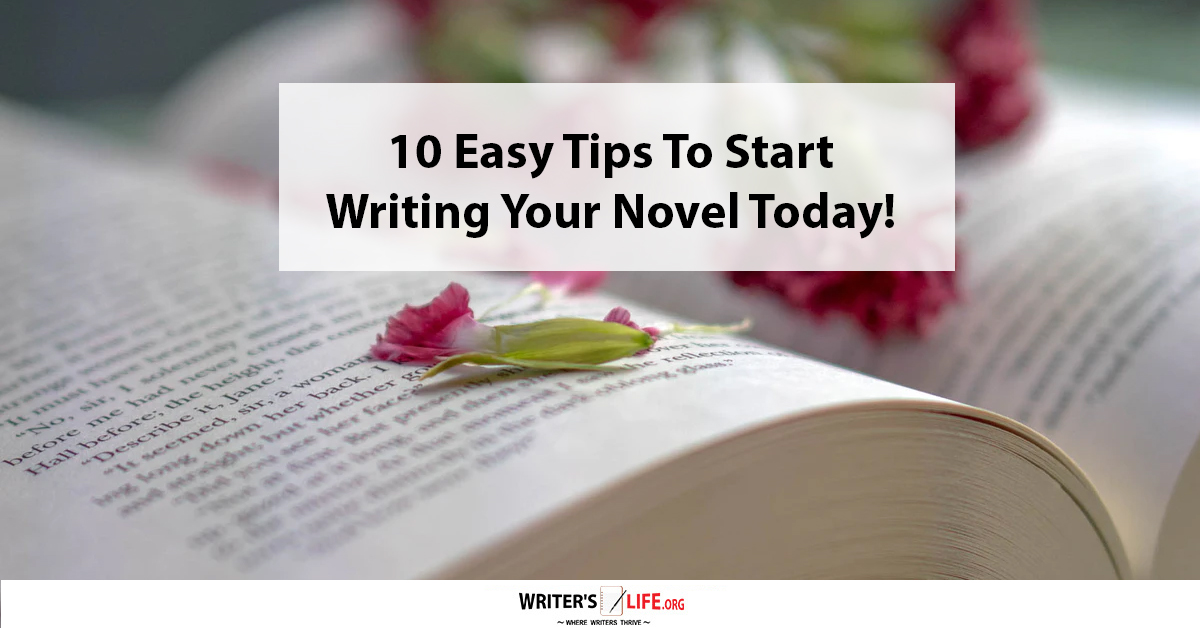 Need some easy tips to start writing your novel? Read on to discover ours!
We all know that sometimes it is trying to begin something that is the biggest hurdle you need to overcome. While writing a novel can be daunting, if you don't start, you'll never know what could have been. So take a deep breath and get ready to take the plunge. You'll be so glad you did!
Want to begin writing your novel right now? Follow these easy tips to start writing your novel today. 
Set your goals and your deadlines
Before you begin writing, there is one thing you need to do that will shape everything. You need to decide when you want to finish your novel, set your deadline, and then work out all the things you need to do to make sure you achieve it. The majority of full-length novels are between 50,000 and 100,000 words, so you need to understand how much you can write each day (or hour) and how many days (or hours) you have spare in any given week to write. From here, you can make a calculation based on this. When setting goals, be realistic but challenge yourself and give yourself some leeway as we all know that life can get in the way from time to time. Once you have your deadline, that's it, though. You have to commit. There's no going back now.
Fail to prepare and prepare to fail
If you don't get organized, then you are likely to burn out pretty quickly. Most writers find it helpful to do a bit of prep before they begin writing their first draft. The things you can do include writing a synopsis, doing some research, writing some character outlines, writing your chapter outlines, and creating mind maps. However, take care not to over plan at this stage; otherwise, your idea might get stuck in your head, or you'll overthink things and start to self-sabotage.
Get to know your characters
The better you know your characters, the easier it will be to write them naturally and believable. Take time to get to know your characters, let them live a little in your head, and find you'll know what they'd say or do in any given situation.
Find the right tools
Test out some of the great tools and apps that are available to writers nowadays. A great tool can prove invaluable and help keep your work and research all in one place.
Write freely
When you begin writing, try to let it flow out of you without being too self-critical. Many authors swear by writing their first draft as fast as possible to ensure their critical inner voice can't keep up. The sooner you get that first draft down, the sooner you can start to shape it into a novel that's worth reading.
Accept there is no perfect time to write
If you've scheduled some writing time and don't feel like writing, you need to get on with things. There are days where you aren't going to feel much like writing, but, guess what? You're going to have to do it anyway. The sooner you accept this, the better.
Speed is your friend
We've said it before, but it is worth emphasizing. The sooner you can finish that first draft, the better. So write fast and don't overthink it, and then you can shape and perfect it when you come to edit.
Find a writing crew
Make sure that you surround yourself with likeminded people who understand that the writing process can be a grueling one. Other writers can give you invaluable feedback on your work, friends, and relatives can be great to bounce ideas off, and online groups can be great forums to ask questions or share war stories!
Don't quit until you are finished
There will be many times that you feel like giving up on your writing, and you will undoubtedly face many obstacles. But just like the hero in every good story, it is through perseverance and overcoming these obstacles that you will finally succeed. So keep going, believe in yourself, and you will get there in the end.
Have fun
At the end of the day, if you aren't having fun, you need to find ways to get enjoyment out of your writing. We aren't saying that every minute of every day needs to be fun-filled, but if you aren't enjoying yourself, it's going to make the process a lot tougher.
By following these ten tips, you can start writing and make sure that you get to the finish line. Good luck!
Now you know how to start your novel, why not learn some great tips on how to finish it?!
Get A Free Writer's Toolkit By Visiting http://www.writerslife.org/gid