The Writing Research Rabbit Hole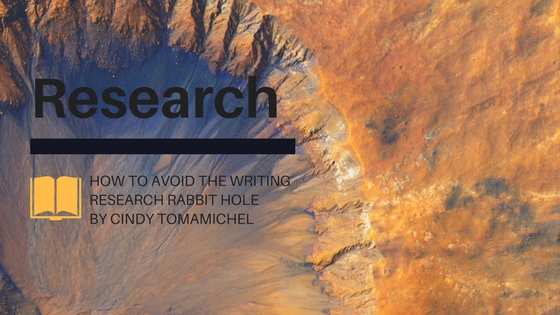 Most writers love to know things, collecting odd fragments of information to craft into a telling scene, or to spark creativity. From old recipes, newspapers, dusty books and odd google searches, a number of random snippets can overwhelm any writer. For a writer of historical, fantasy or science-based work, the sheer joy of research and world building can also take up all your writing time. Planning and organisation are key elements if you are ever to escape the rabbit hole of research and actually write something.
Planning your research
I did a lot of research for my time travel romance set in Roman Britain, so I hope some of these tips will help others starting down the track of a historically based novel.
Do you have a timeframe in mind? An era or person? If you are unsure where to start, get a world history book that describes what was going on around the world through time. Some good ones include 'World History' by Rodney Castleton or the 'Larousse Encyclopaedia of Ancient and Mediaeval History'. Your library reference section should have a few of these types of books. So read until you find a time and place that appeal to you.
Already have a time and place? Note down a couple of significant events that happened, so you can shift your timeline a little. Now, go back to the library and check out the children's reference section. This may sound odd, but kids' history books are a treasure trove of pictures and simple overviews. At this stage, you are looking broad brush, not fine details. Programmes on TV such as Horrible Histories also offer fun odd facts that may be the turning point of authenticity for your book. There are some children's books that offer a day in the life of people in ancient times, and this can be a fun and fast way to add colour and develop a character.
For science fiction, the children's section is also excellent for basic astronomy, space travel and related topics such as atmosphere, geology, biology and chemistry that can be used in world building.
The next part of the world is set. I found some excellent resources in walking guides which are published by historical groups. Another good source is the internet, look up facebook groups that specialise in photography of the area and join in. For science fiction, the setting will naturally depend on if it is in space, a planet and how Earthlike it is, for instance. A read of the 'Encyclopaedia of Science Fiction' will give you a few leads on what other authors have done. In my sci-fi novel (unpublished as yet) I researched topics such as terraforming, planetary classifications, biology, mutations, radiation and deep sea vents, to name a few. Twitter and Facebook are excellent ways to find and follow researchers in the fields you need, from astronomers to archaeologists.
Stop Researching
Ok. You need to stop now, step away from the internet and shut the books. Go for a walk and have a think about your book. No more research until you have a plot, some characters, conflict and action. For the love of research leads naturally to the building of worlds, and many writers can live in this limbo of researching every single detail and never actually writing. Or worse, building a detailed world and history and not have an actual story or even characters. All of this is enjoyable, but not productive. It's not getting your book out there. You must draw a line in the sand and say 'no more research, I have a book to write!'
Some aspects of your characters may need mid writing research, and this can be a good way to give you a change of pace. Small details such as technology (fire lighting methods for instance), clothing, furniture, food (what was available/exotic/expensive or cheap at the time), shoes, hairstyles and modes of transport can all add interest and authenticity.  Equally, the away team reporting on geological formations on the planet can be quite technical, if kept short. However, avoid the info dump trap. Just because you know it, doesn't mean the reader needs to know all the details. Try reading Jules Verne to see a good example of heavy-handed detail. Great stories can be made very dull with lengthy and unnecessarily detailed descriptions.
Organising research
Organisation is important as a way of keeping tabs on all the details. Of course, no matter how you do it you will still end up at 3 am searching through 3,000 post-it notes to find the comment about Roman sandals. However, there are some things you can do to make it easier.
Tabbed notebooks are good ways to sketch things from museums and jot down notes. Steer clear of post-it notes unless you can stick them in a section on related items. For internet searches, make good use of the bookmark function, and subdivide categories into different folders. If you are writing up notes in Word, then make files for separate topics, or if in one file, organise it with headings, and use the navigation pane (view – tick navigation pane box) to move around the document. Make sure you record the references you used in case you need to cite them or recheck in the future. Make full use of copy and paste to add web page links into your document. If you are a visual person, perhaps a site such as Instagram or Pinterest may help in collating pictures.
One software tool for writers is Scrivener. I have used it and wasn't that keen, however, for researchers, it offers the opportunity to keep all your links, pictures and files in the one place. They offer a free month trial, and it's not that expensive, so it is well worth seeing if it suits you.
So I trust that some of these tips prove to be of use. I hope they help move you out of the endless research rabbit hole and into the sunny writing fields, where we can all enjoy the new world you have created from old facts.
Author Bio
Cindy Tomamichel is a writer of action-adventure romance novels. The heroines don't wait to be rescued, and the heroes earn that title the hard way.
She has poetry and short stories in the recent anthologies of Rhetoric Askew. More of her published work is on her website.
Her book - Druid's Portal – is on Amazon, and out in paperback Sept 30th. It is a time travel romance, set in Roman Britain around Hadrian's Wall. Action and adventure with plenty of fighting, ancient goddesses and druids. It's not your typical romance, but it will set your heart racing!
Posting Rules/ Guidelines
: