The People Every Writer Needs In Their Life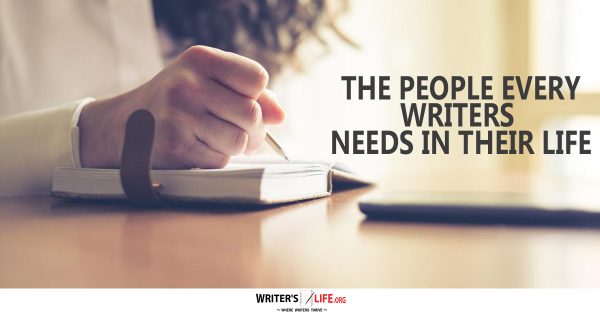 Writing can often feel like quite a solitary job. If you spend long hours of your day holed up in your little 'writing sanctuary' - with family and friends under strict instruction not to disturb you - it is possible to get so lost in your work you become a little disconnected from the outside world.
That's why it is especially important for writers to surround themselves with people who understand and support them. These are the selfless friends and loved ones of the writer who have endured their quirks and charms for so long they just seem to instinctively get what it is you need!
There are, however, particular types of people that writers can do with in their lives, and it's a good idea to make sure your nearest and dearest has at least one of each!
The biggest fan
Every writer needs someone to be their biggest fan. This person is their cheerleader. They think everything they write is brilliant, every idea they come up with is inspired, and they think you are creative and wonderful, and are in complete awe of you. Your biggest fan can be someone who follows all of your work and writes you gushing reviews or it might just be your best mate or partner. The point is when you are suffering from self-doubt and criticism, this gem of a person is always there to give you a little pick me up!
The editor
Every writer needs a good editor. There is no getting away from how completely invaluable a good editor is when it comes to writing. No matter how good you are, there is no way that you will be able to spot every error, or step far enough back from your writing to critique it objectively. A good editor can make your writing shine. They are the person who you can count on to honestly (but professionally) tell you what you need to change and what you need to fix. Finding a good editor will seriously change your writing life. Though beware! Having a bad one will also change it (but not for the better!) so make sure you make having a great editor in your life a top priority.
The inspiration
Your inspiration is what keeps you writing. You'll look up to them and respect their opinion. They will mentor you and guide you through your writing life. You can turn to them for advice and rely on them to support you when the going gets tough. Remember, an inspiration doesn't have to be someone you actually know. It might be your favourite author or a blogger you just love, but it's their words that keep you going, that encourage you to persevere with your own work no matter what.
A motivator
Who is the person that keeps you going, that one who won't let you quit? This is the motvatior, and they are an individual completely necessary for every writer. Your motivator might be your parents who always tell you to believe in yourself or that you can achieve whatever you want if you put your mind to it, or they might be your readers and fans who get in touch to tell you how much they enjoy your work. Every writer needs something to motivate them so make sure you have a motivator in your life!
A critic
Writers need people to criticise them, otherwise, how would they ever improve? A critic is someone you can rely on to give you honest feedback about your work. They won't be afraid to hurt your feelings and will give you practical, constructive criticism which you can use to improve your writing. You may not always love your critic, but they can always be relied upon to tell you the truth - even if it hurts.
So there you go, the ultimate writer's crew! Making sure you have these people in your life will not only mean you have got people there for you when the going gets tough, but they'll also help you get better at wiring too!