The World's Top 5 Paying Magazines to Write For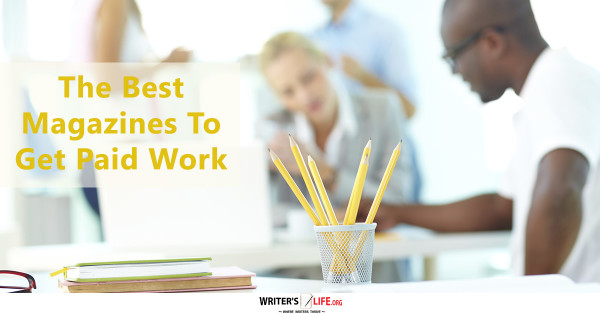 As a freelance writer, it can be difficult when working in such a fiercely competitive market, to find jobs that pay well.
While there are plenty of freelance gigs out there, some offer appallingly low rates of pay. Of course there is some benefit, when just starting out, in taking on gigs that aren't going to make us millionaires! However when you are looking to write freelance full time, then you want to find consistent, exciting work that is going to pay the bills.
Finding work of this kind is difficult, though not impossible, and if you do your research (or just read this article!), you will discover that there are in fact plenty of publications that are more than happy to pay well for good quality work and reliable writers.
Here are five magazines that will pay top dollar for articles. Check them out!
Tai Chi Magazine
This magazine has a dedicated readership and focuses on mastering the art of Tai Chi. They require articles on a range of subjects covering all aspects of this impressive martial art including health and fitness, meditation, and personal and spiritual growth. The payment is dependent on the length and quality of the article but is between $75 to an impressive $500 per piece.
2. In-flight magazines
In-flight magazines have a large readership and cover a wide variety of Lifestyle topics, such as food, entertainment, arts and culture, travel, health and fitness and business. While it is not the easiest job to secure, if you can write for an in-flight magazine you are practically guaranteed well-paid, interesting work that will be read by huge numbers of people.
3. The Sun Magazine
This independent and compelling magazine is ad-free and has been going for more than forty years. It is looking for intellectual and engaging writing covering subjects such as fiction and poetry and some political and cultural pieces too.
4. The American Gardener
The American Gardener is the much-loved publication from the American Horticultural Society. It is geared towards the amateur gardener, and you should approach them with ideas for feature articles that are helpful and innovative which will appeal to their audience. Payment is between $300 – $600 for feature articles of around 1,500 to 2,500 words.
5. Country Woman Magazine
Country Woman is a woman's lifestyle magazine covers topics such as arts and crafts, cooking ideas, gardening and women's interest stories. They welcome submissions from readers, and payment will be arranged once they have accepted your piece.
These are just a few of the publications out there that will pay a decent amount if they like your work. Once you start your research, you will find that there are plenty of magazines both on and offline who are willing to pay well for engaging, good quality pieces. And once you are in the know, you can start to build up your portfolio, and hopefully will never have to accept another low paid job again!