Realistic Ways To Make Money Writing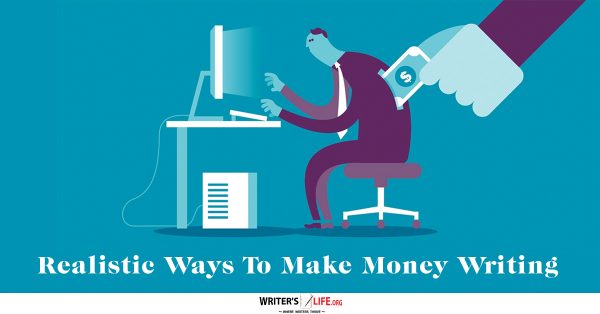 We'd all love to be bestselling authors, but let's face it, trying to make money from writing books is a pretty tough business. For most writers relying on books sales as their income just isn't feasible.
However, many writers don't want for writing to simply be 'just a hobby'. They want to write full time. So where do we find the balance?
Luckily there are plenty of ways to make money writing, and while they might not be as creative and exciting as being a published novelist, they will pay the bills and keep you doing what you love.
Here are some realistic ways to earn a living from your writing.
Articles
Writing articles for magazines, newspapers and other prominent publications is a great way of earning money through your writing, and it's not as difficult as you might think. There are thousands of different publications out there - all of which need content every time they publish.
If you have a great story why not find a suitable publication and pitch your idea to the editor? If you have a particular interest or hobby use this to create useful, informative, engaging articles and find a magazine which specialises in that particular topic.
There are publications on almost any subject so use your interests and skills to help you land a great writing job! Remember article writing is a skill, and you need to make sure you do your research, follow submission guidelines and stick to any deadlines. If an editor rejects your suggestion it doesn't mean you can't come back with another one, so just keep trying and you could end up with a regular gig writing about something you are passionate about.
Blogs
Writing guest blogs for popular bloggers remains largely unpaid - though it is a good way to get exposure. However, there are some exceptions where bloggers remain on the lookout for good quality writers to join them and will pay handsomely in return. It's also a good idea to think about writing your own blog. If yours starts to gain a following you'll soon have advertisers asking if they can place adverts on your blog, or if you will mention/recommend their product in a piece - and they will be happy to pay a good price for the privilege.
Content creation
Many businesses are on the lookout for savvy content creators to write for them. The position could include writing anything from landing pages to press releases but will keep you writing, and will pay the bills too.
Creative writing
If writing anything other than fiction sounds unbearable to you, where are also plenty of opportunities to write short stories and even poetry and submit these to relevant publications. If accepted you can expect to be paid, and could even be asked to become a regular contributor!
If you are really serious about making a living writing these could be great ways to get you started. It may not feel as glamorous and dreamy as landing a juicy publishing contract but it will mean you can support yourself, continue to develop your skills as a writer, and still have time to work on your other creative projects as well. Now that's got to be better than sitting in your office at your regular 9-5 daydreaming of a life as a writer? Right?!