How To Leave A Lasting Impression With Your Writing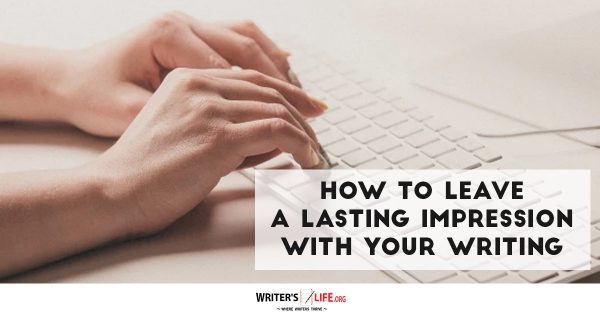 One of the most important considerations for any writer is how to make sure that when their readers have finished that final page of their book or short story, that they have left a lasting impression on them. That they have affected them in some way and that they have read a story that they won't forget in a hurry!
The stories that make a lasting impression are the ones we go on to tell our friends about, the ones we talk about at dinner parties, the ones we remember to leave glowing reviews for. They are also the stories that agents and publishers are likely to want to publish, knowing that readers will remember this story and encourage other people to buy it too.
So how can you ensure that your writing leaves a lasting impression on your readers? Here are some things to consider.
The voice
A story that makes a good impression is one with a strong narrative voice. Your writer's voice should be distinctive yet not obtrusive. It should be clear and unique and yet not get in the way of the story itself. If you can find your writing voice, your true authentic style, not only will your writing make more of an impression; you will become recognised for your voice too.
The beginning, the ending and everything in between.
An impactful beginning and an ending that leaves us reeling or deeply satisfied are essential. But don't think that just concentrating on those two elements will see you through. Your entire story should be geared towards making an impact, being memorable. Remember that every word counts.
Avoiding cliches at all costs
Cliched writing becomes instantly forgettable. Make sure that you weed out any cliches in your text and swap them out for something unique and brilliant and captivating. You should be thinking about how you can make your reader sit up and pay attention to what you are trying to say. So make sure that you don't give into chinches and stereotypes and always think about how you can do something unexpected and surprising instead.
The twists
A story with ups and downs and twists and turns will take your readers on a roaring adventure and emotional rollercoaster. They will finish your novel feeling breathless and exhilarated and like they want to do it all over again! Make sure you include some surprises in your novel that keep your reader hooked.
The characters
Of course, your cast of characters play an enormous part when it comes to ensuring your book makes the right kind of impression. Make every character in your story count, but of course, pay most attention to your heroes and villains and work on them until they are larger than life, brilliant, terrifying and truly unforgettable.
By following the above tips, you will keep you, readers, thinking about your book long after they have put it down! So make sure you always bear in mind how to make a lasting impression on your readers with your writing, and it will be well worth it in the end.