How To Write A Book – It's Easier Than You Think!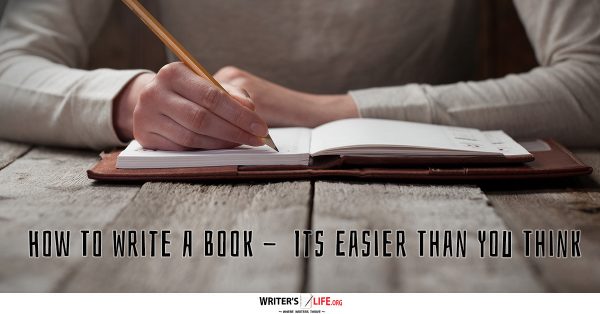 There is no wrong or right way to write a book. However, one thing that is true is that anyone can do it. If you think you have a story in there somewhere and have always dreamt of writing then just go for it - it may not be as hard as you think!
By setting yourself goals and sticking to them, you can write a book pretty quickly! So if you think you have got what it takes, why not give these a try?
Start small, aim high
Don't overwhelm yourself at first. The idea of writing a whole novel can feel pretty daunting so try to break it down into manageable bite-sized sections. Think of yourself as an incredibly unfit person who has just signed up for a marathon. You don't go for a six-mile run straight away, do you? Take baby steps. Aim to write 300 words a day and see how you get on. John Grisham used this technique - and if it's good enough for Grisham…
Plan ahead
Write your chapter outlines before you start writing, that way you won't get halfway through your book and run out of ideas. Make sure it can work before you begin. Your chapter outlines don't have to be detailed but it will give you the bare bones of the story and will make it much easier to see how you will navigate your way to the end.
Find a writing space
Find a space to do your writing and make that your writing 'den.' Don't use that space for any other activity. That way when you sit down here, you will know that all you need to concentrate on is your writing and are less likely to get distracted by other things.
Have a word count in mind
OK, so many writers would disagree with this as would argue that every book is as long as it 'should be.' But for first-time writers who need motivation, having an end goal of say 100,000 words makes it easier to see how you are progressing and helps you understand roughly how long each chapter needs to be to hit that target.
Get feedback
Don't wait too long to get feedback. If you have the first few chapters written out, that's enough to get some feedback on what others think. You can ask family and friends to have a read through but if you'd find that too cringe, or you wouldn't trust their opinion (either too nice or too critical!) then there are plenty of online websites where you can share your work. It might feel nerve-racking, but it can be so useful, especially in the early stages.
Stay motivated
Get it done. If you keep giving yourself small, manageable targets you are so much more likely to achieve what you want from your book. Don't give up, and once it is done don't just chuck it in a drawer. Get it out there for the world to see, you never know what might happen if you do!