What To Ask Yourself If Your Book Isn't Selling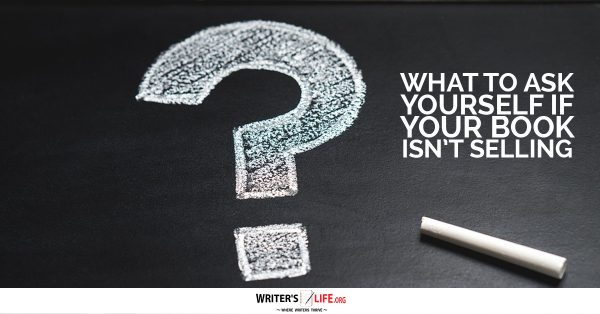 It's always disheartening when you finally get your self-published book up on Amazon only to find the days, weeks and months roll by and you don't seem to be selling any copies. For many authors, generating big book sales is difficult, and most may only see that a few a month, or even less leave the 'shelves.'
It's no surprise, therefore, that after a while you start to lose faith and wonder where it all went wrong!
At this point, it might be time to ask yourself the following questions - and it's important to be honest with your answers too.
If you really want to boost your sales and get to the bottom of why your book might not be selling then you need to make sure you are doing everything you can to help make that happen.
Have you put your book up at a reasonable price? Take a look at what other self-published books in your genre are selling for. If your book is too expensive then no one is going to buy it. Similarly don't sell yourself too short. If your book is suspiciously cheap people might be led to believe it's not worth reading either.
Have you worked really hard on your book description? Your book description needs to immediately captivate your readers and make them feel as though this is a book they simply must read. Spend time researching other people's descriptions to see what you can take from them and take your time in order to perfect it and get it just right.
Have you put your book in the right category? If your book sits in a category that's actually not right for it, people who find it there will be looking for something different - and therefore be less likely to buy it. Think about your reader, what genre are they likely to go to, to search for a book like yours?
Have you had your book's cover professionally designed? The importance of having a professional book cover design cannot be stressed enough. This is one thing that every writer should be happy to shell out for. Without one, readers simply can't take your book seriously and will assume the content is as amateur as the cover.
Have you had your book professionally edited? Paying for a professional editor is so worth it if it means that your book is grammatically correct and error free. If it means you have to wait to publish your book, so be it. Your reputation is so important.
Have you done everything you can to build positive reviews? Make sure you are always pushing for new people to read and review your book. The more genuine positive reviews you have, the more people are likely to buy it.
Have you made your book available as an ebook? Having your book only available as a paperback is really selling yourself short. In order make sure you appeal to as wide an audience as possible it is important to have your book available in both formats.
Have you written more than one book? The more books your write the more shelf space you take up and therefore the easier it is for readers to find you. Keep on writing, build up a collection and you'll be seen as a more professional and dedicated writer too.
Have you marketed your book in every way possible? Let's be honest, there is probably more we all could do. Always try to keep marketing your book and try everything you can think of to improve its visibility.
If you answer yes to all these questions then you are giving yourself the very best chance possible to be discovered by your target readers, and for them to enjoy and spread the word about your book. Remember, simply adding your book to Amazon's website isn't enough. It's all about how much time and effort you can dedicate to your book - that's what will most likely help see a boost in your sales and make your book a success.