The Pros and Cons of Making Money With Articles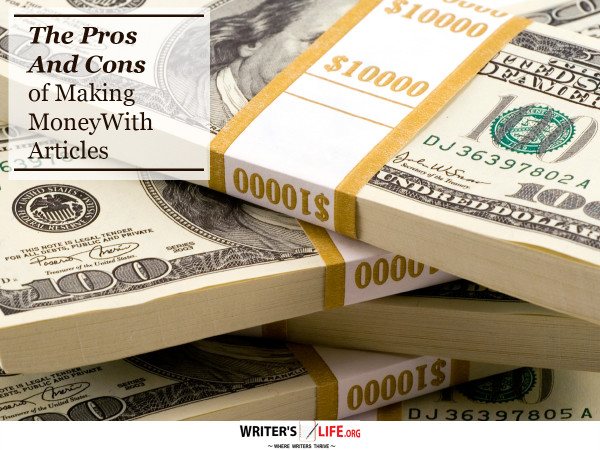 Share, Pin or Retweet If You Love Writing!
There are several different ways to make money with articles as a freelance writer.
Would you like to work-at-home as a freelancer? Then you might be interested in our  Writers Life Get Paid to Write Course that can help you find the richest sources of writer's income as well as teach you the skills that you need to write articles and how to market yourself so that you attract high paying clients.
Here are a few ways articles can help you make money online, whether as a full-fledged business model or as some side income:
Make money writing articles for clients.

Pros - Direct payments, Income can come quickly
Cons - Limited rights usually limit earning potential per article, Deadlines

Make money writing articles for content networks.

Pros - Networking opportunities, Build authority status
Cons - Pay is usually low, You still lose some or all of your rights to your articles (limits future income potential)

Make money writing articles for your own sites or blogs.

Pros - You can earn recurring income, You maintain full rights and control over your articles
Cons - Income can be slow in the beginning, You have to market your sites aggressively to increase earnings

Make money writing articles for affiliate marketing.

Pros - You choose the products to promote (unlike some advertising options), Affiliate products can have high payouts, You don't need your own website or blog
Cons - Affiliate marketing often works best after building a mailing list which takes time, To be a successful affiliate marketer you generally have to build a certain amount of trust with article readers which can also take time

Make money writing PLR articles.

Pros - You control usage rights to the articles, You can sell articles multiple times, You set your own article prices
Cons - Buyers generally won't pay much for PLR articles, Successful PLR programs can require extensive and continuous marketing efforts (the price won't always justify the time spent marketing)
Now that you've taken a look at how to make money with articles using five different tactics, which would you prefer?o you already use one or more of these options? Personally, I've tried each of them. Do you know of other ways to make money writing articles? Any pros or cons to add to the methods listed?
Part of being a good freelancer is being fast, organized and disciplined. That is why The Get It Done, Writer's Toolkit is highly recommended for writers to help them on track and avoid writer's block and falling behind schedule in their work. Staying on point with your assignments and turning them over fast helps you make as much money as possible,if article writing is the way you would like to make income as a self-employed scribe.

This article by Jennifer Mattern titled Ways to Make Money Writing Articles originally appeared at  http://allindiewriters.com/how-to-make-money-with-articles/