Could You Crowdfund Your Next Novel?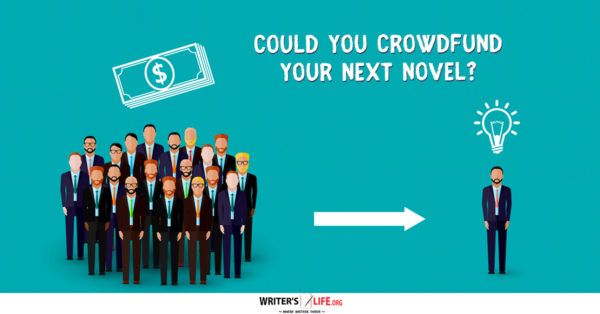 When most people think about publishing their novel, they assume that either they will find an agent or publisher to help them promote and sell their work, or they will do it themselves through self-publishing.
While finding a publisher is extremely exciting, it is also tough, and only a small percentage of authors can secure a publishing deal. Self-publishing, on the other hand, is open to pretty much everyone, but to make a success (and any money) out of it you need to have an incredibly solid marketing plan, and a little bit of luck too.
Many authors find it extremely challenging to find the time to write. Unless you can make money from selling books alone, you have to take on other work (writing-related or otherwise) which takes up a considerable amount of time and makes it very difficult to continue to produce creative work regularly.
Crowdfunding your next novel, however, offers a different alternative. This way you could raise funds needed to be able to put all your resources, time and effort into creating your book and be safe in the knowledge that you can afford to stop taking on other work to support you while you do this.
But is it really possible to create a successful Kickstarter campaign for a book?
The good news is it certainly is. The bad news is, like with everything to do with getting a book published and marketed, it takes time and considerable effort to do so.
So what can you do to give yourself the best chance of success when it comes to trying to raise money for your book through crowdfunding?
Build a fanbase before you start
Having a solid fan base is naturally extremely advantageous for any author. If you want to get people to back your book, you need to get them excited about you. Building a fanbase is a slow and gradual process. However there are many ways you can do this. Be active and thoughtful on social media, do book giveaways, go to networking events, do a book tour, write a newsletter, create a blog - all these things will help you get noticed by the right people. Having a good fanbase works on multiple levels. Not only will some of your fans turn into those who are willing to offer you financial support for your next work, but it will also show others that you are likely to make a success of your book - and therefore they'll be willing to back you too.
Offer your backers something exciting to entice them in
While there are those that are happy to give people something for nothing, it is always nice to offer your backers an incentive to help them part with their money. Signed first editions of your book is a usual reward. You need to be able to sell your project to them; many people just like to feel part of something creative so use emotive language in your crowdfunding pitch to make them feel that way.
Devise a good marketing plan, so you can demonstrate how you will make your book succeed
If you want to crowdfund your novel you need to ensure that you can show potential backers why it will do well. Think of it in the same way as trying to persuade a publisher or agent to take a chance on your book. If you can demonstrate you have a solid marketing plan, and that you clearly care and are willing to put everything you have into making a success out of your book, you will persuade more people to believe in you.
Hire professionals to help you
When it comes to the finished product, don't cut corners. Put your crowdfunded money to good use, hire a professional editor and book designer for those final touches to ensure your book goes to print in the best possible shape it can be in.
Write your book first
While for many authors this may defeat the object, if you can write you book first, or even get part of the way through it, you'll feel a lot less pressure once people start giving you money for it. Your backers will expect to see the finished product and will want a timeframe as to when this will be. If you have only got the initial idea at the moment and nothing more, you may suddenly feel lots of pressure to get writing - so make it easier for yourself and write at least some of your book before or during the crowdfunding process.
Crowdfunding your book can be done, and we imagine it will become an ever more popular route for authors to explore as time goes by. Many authors have already made a success out of crowdfunding their work - so, is it something you would consider?